Top Honoree: Physician
Dr. Eric S. Williams
Cardiology clinical service line leader with Indiana University Health Physicians; professor of medicine at IU School of Medicine
If you live in Indiana and see a heart doctor, there's a good chance that doctor was trained by Dr. Eric Williams.

Williams, 69, has trained generations of Indiana cardiologists, but his influence transcends numbers. It's his style of teaching and his involvement in setting the standards for how cardiologists across the country are trained that make Williams a legend among his peers.

"Eric Williams has been a role model for every cardiologist who has come through IU's Krannert Institute of Cardiology in the past 30 years and a shining example for countless cardiologists nationwide," said Dr. Richard Chazal, a former trainee of Williams' who is president-elect of the American College of Cardiology, a professional society Williams is deeply involved with that bestows credentials upon cardiologists and works to improve the specialty.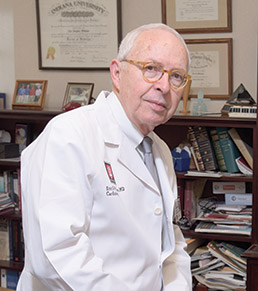 (IBJ photo/Eric Learned)
"His intelligent, measured approach to medical problems is a guide-star for how all of us should care for patients," Chazal said.

Williams' skill in treating patients and his dedication to improving the performance of all cardiologists make him the top honoree in the physician category of Health Care Heroes.

Though he's well-known as an educator and leader, Williams' clinical skills also distinguish him.

"Physicians go to him and refer their family members to him, the highest sign of respect among physicians," said Dr. Richard Kovacs, who trained under Williams and is now clinical director of the Krannert Institute of Cardiology.

"Clinical care has always been a central part of what I do," Williams said. But his style of care can't be learned in a book.

"You can know all the facts, but it's the nuance in putting it together and synthesizing things and taking into account family situations that cardiologists need to know," he said.

"Real training takes place at the bedside, in the clinic and in the ICU," said Williams, who places a premium on showing, not telling, his students how to do things.

As chairman of the American College of Cardiology's competency management and life-long learning oversight committees, Williams in 2010 led an overhaul of how cardiologists are trained.

The new competency-based system sets a higher bar for those who want to enter the profession. "You don't just put in three years of cardiology fellowship," Williams said. "We've listed very specific skills and behaviors that you have to be able to demonstrate that you've achieved."

Twenty years ago, Williams said, training for heart catheterizations, for example, required an aspiring cardiologist to witness a certain number of catheterizations. There was nothing in the standards that took into account whether the student had mastered the skill.

Today's trainees must also demonstrate proficiency at skills such as conflict avoidance and communicating with patients and families across a wide demographic spectrum.

"Traditionally, the training to become a cardiologist was a time-based exercise, where trainees served their few years and got signed off by their superiors," Kovacs said. "Now, thanks to Dr. Williams' influence, training is based on hundreds of concrete, practice-based skills and competencies that trainees must demonstrate before they advance to the next level. That has been a sea change in the field of cardiology."

Williams is humbled to have been a part of that change. "It has been my honor to lead that process from the beginning, but this represents work that hundreds across the country have contributed to."

Training isn't the only thing that's changed over the course of Williams' career. He marvels at the many advancements the field has seen since he began practicing. "I went through before we had clot-busting drugs," he said. "The improvements are striking."

But Williams harbors a few concerns about the state of medicine today. Specifically, he worries the resources for training won't match the need. "Resources for education are being challenged," he said, because "education doesn't make money." He wants to make sure the demand for efficiency doesn't marginalize the role of education. "It takes time to train a fellow," he said.

Williams' role in the field of cardiology was recognized in 2014 when he was invited to Washington, D.C., to receive the designation Master of the American College of Cardiology, an honor only a few cardiologists receive each year.•