Finalist: Physician
Dr. Margaret "Meg" Frazer
Josephson Wallack Munshower Neurology PC; Midwest medical director, Pfizer Inc.
Meg Frazer considered a couple of factors when she chose to become a neurologist. She wanted a challenge and she wanted to be able to develop relationships with patients.

"I consider neurology the last frontier of medicine," said Frazer, who graduated from Purdue University and the Indiana University School of Medicine. "There's a lot about the brain we don't know. It's the most complicated organ in the body and, to me, the most fascinating. I thought there was a good chance we'd find a lot of new treatments during my lifetime."

Frazer, 56, hasn't been disappointed. As Midwest medical director for the drug giant Pfizer since 2000, she's uniquely positioned to be involved in finding those new treatments. And she enjoys Pfizer's relatively unusual policy of allowing its researchers to continue to see patients. She has several hundred of them through her practice at Josephson Wallack Munshower.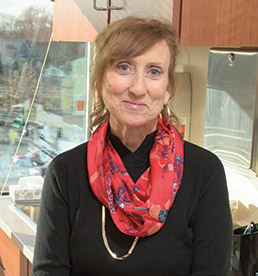 (IBJ photo/Eric Learned)
"Patient relationships are what I enjoy most about medicine," said Frazer, who decided against specializing in emergency medicine because it offers only fleeting interactions with patients. "In neuroscience, we don't cure; we treat," she said. That offers the prospect of quality patient relationships.

"Medicine is a science, but it's also an art. I worry about how we are trying to hurry patients along," she said of a medical system that places a premium on efficiency. "You lose a lot if you don't take the time to understand your patients."

Frazer took that commitment beyond the exam room about six years ago when she started what has morphed into a weekly chronic pain and neuropathy support group. A previous group focused narrowly on neuropathy, which refers to diseased or malfunctioning nerves. That's how the new group started, but it has since expanded and welcomes people with many chronic conditions. Because physician-led groups are rare, Frazer said she gets inquiries about the group from sufferers in neighboring states.

Those who've attended the group and are patients of Frazer's sing her praises.

"Dr. Frazer listens carefully, asks thoughtful questions, looks at the big picture, thinks 'out-of-the-box,' and advocates tirelessly for her patients," said Linda Nodley, one of those patients.

Frazer's dedication to the support group, her work for Pfizer, and her constant interaction with patients all feed the desire for a challenge that she considered when she chose to become a neurologist. But that's not where the challenge ends.

Frazer is the mother of nine daughters, ages 13-32. Three were from her husband's previous marriage and the three youngest are triplets. Every minute counts as Frazer balances career and family.

Most of her friends, she said, are the parents of kids who share common after-school activities with her youngest daughters. "All I do is go to work and my kids' activities."

Frazer wouldn't have it any other way.•