Top Honoree: Non-physician
Kristin Wikel
Supervisor, Riley Hospital for Children at Indiana University Health School Program
Health and healing are usually the chief concerns of the young patients and their parents who spend time at IU Health's Riley Hospital for Children, but keeping up with schoolwork and school friends is also a major worry.

Kristin Wikel is passionate about putting those concerns to rest and becoming an advocate for Riley patients and their families while they're in the hospital and after they've gone home.

Wikel took over as supervisor of Riley's School Program in 2011, inheriting a program that started in 1924. Since then, she's reorganized and expanded it and, in the process, caught the attention of Riley executives and state education officials.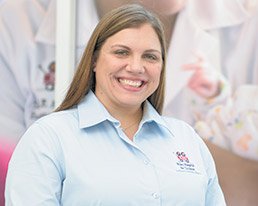 (IBJ photo/Eric Learned)
"Kristin has helped build a fantastic group of educators here at Riley. The team works extremely well together, and they appreciate greatly having a leader as competent and compassionate as Kristin," said Russ Williams, Riley's chief operating officer, whose spouse volunteers for the school.

Catherine Danyluk, director of student services for the Indiana Department of Education, agreed. "Through Kristin's leadership, passion and advocacy for Riley children, the Riley School Program has grown and improved immensely."

Wikel's many achievements at Riley make her the top honoree in the non-physician category of Health Care Heroes.

Riley has eight teachers on staff and six volunteers who help patients keep up with school and their parents navigate the complexities of interacting with school districts. Wikel, 36, became a teacher in the program in 2003 after spending two years as a special education teacher in Whiteland public schools. After starting in the role on a temporary basis as part of her continuing education, she discovered she loved teaching in the hospital.

"I felt like I could really touch each individual life," said Wikel, explaining the satisfaction that comes from helping children and their families more holistically than in a traditional education setting.

Most of Wikel's first eight years as a hospital teacher were spent at Methodist Hospital, which housed a subunit of Riley's school. As the only one in that role, she became used to seeing patients in grades K-12, experience she used to restructure Riley's school when she agreed to lead it in 2011.

Riley teachers had always been assigned to patients based on grade level, regardless of whether the child was in an oncology, cardiovascular or neurology unit, for example. Wikel reorganized the school, integrating teachers into the various units, where they now work with patients of all ages. She knew from experience that working with the different grade levels was possible, and she suspected that integrating the teachers into the specific treatment teams would be beneficial.

There are now clearer lines of communication between teachers and clinicians and between Riley and the schools students normally attend. A bonus is that teachers no longer find themselves seeing students all over the hospital. Their work, typically an hour of instruction a day, is confined to the two 24-bed units they're assigned to. The volunteers who help with the workload are all licensed teachers themselves.

Some of Wikel's ideas benefit the siblings of Riley patients. When a family has a child at Riley for an extended time, it's not uncommon for the family, including the siblings of the patient, to come to Indianapolis from other parts of the state to stay at the Ronald McDonald House. Wikel forged a partnership with Indianapolis Public Schools to allow school-age siblings to attend nearby School 44.

Wikel's favorite program is "Bear in the Chair," an idea that keeps Riley patients connected to their classroom, and vice versa.

A teddy bear occupies the seat in school left empty by a Riley patient and facilitates an ongoing connection among classmates, teacher and the absent student. Wikel recently added iPads to the mix, giving patients an opportunity to connect in a supervised interaction with their teacher and peers via Skype or FaceTime.

The program has placed 55 bears in chairs since 2013.

"It makes patients feel so connected," Wikel said.•