Finalist: Non-physician
Brittany Dorton
Registered nurse, IU Health Ball Memorial Hospital
Brittany Dorton wasn't a leader among her peers in high school or college, but that all changed once she became a registered nurse. Her colleagues at IU Health Ball Memorial Hospital in Muncie are benefiting as a result.

Dorton, 31, is recognized now as a leading advocate for nurses, in part because of a study she led at Ball Memorial that sought a better understanding of poor morale and job burnout among nurses.

The study, "Predicting the Risk of Verbal Abuse Among Registered Nurses at a Teaching Hospital," analyzed the responses of 161 direct-care nurses at Ball Memorial, 80 percent of whom had experienced verbal abuse. The study results, released last year, found the abuse came most often from families of patients, followed by physicians/co-workers and patients themselves, and that the abuse led to low morale, reduced productivity and staff turnover.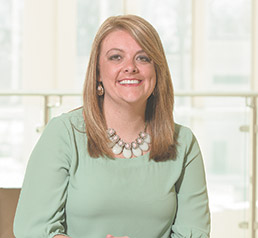 (IBJ photo/Eric Learned)
"You have all these great expectations about being a nurse, but then you realize how much tension there is," said Dorton, who noticed shortly after joining Ball Memorial in 2007 that both doctors and nurses devoted all their energy to patient care while ignoring their own needs.

Her purpose as primary investigator in the study wasn't to call out the abusers, but to figure out how to help nurses remain engaged and satisfied with their work.

Toward that goal, Dorton and colleagues recently started a self-care advisory group at Ball Memorial. The group, which meets monthly, has a charter and specific goals, including developing protocols for dealing with verbal abuse, and broader strategies for articulating needs, managing stress and balancing demands of the job with physical and emotional health.

"It is my pleasure to work alongside her," said Chea Hale, one of Dorton's colleagues. "Her clinical expertise and caring nature is assuring to patients, and she's a role model as an employee."

Dorton chairs the hospital's Professional Nursing Council, which brings together nurse leaders from every floor to review policies and procedures. She also gives talks on relationship-based care and is active in helping Ball Memorial achieve magnet status, a recognition bestowed by the American Nurses Credentialing Center based on excellence in patient care.

Helping underserved patients in other parts of the world is among Dorton's passions when she's not tending to patients or advocating for her peers at Ball Memorial.

She has traveled to Tanzania, El Salvador, Peru, Haiti and the Philippines with the group Medical Missions Outreach to distribute medications otherwise unavailable to certain populations in those countries.

"It's a rare pleasure to witness someone so willing to advocate for others," said one of Dorton's colleagues.

Though Dorton said she knew from a young age she felt called to help people, she didn't decide to be a nurse until she was in high school. No one in her family had ever been a nurse. She credits mentors at Ball Memorial for helping her become a better nurse and for modeling what it means to be a leader.•