Top Honoree: Volunteer
Rhonda Berger
Volunteer and advocate for Indiana Donor Network
Rhonda Berger talked to each of her three kids about being organ donors when they went to get their learner's driving permits. They all agreed to check the "organ donor" box, but no one in the family imagined those decisions would ever come into play.
That changed Jan. 23, 2009, when her 19-year-old daughter, Jennifer, died as the result of an apartment fire in Fort Wayne that also claimed Jennifer's two roommates, who were classmates of hers at International Business College. Berger knew from her learner's permit conversation with Jennifer what her daughter would want her to do. Still, as a single mom, she felt very alone making the decision in the midst of such a loss.
Now, as a volunteer for the Indiana Donor Network, Berger, 57, is on a mission to help others who will face or who have faced the same decision. For her dedication to donors and those whose lives they save, Berger is the top honoree in the volunteer category of Health Care Heroes.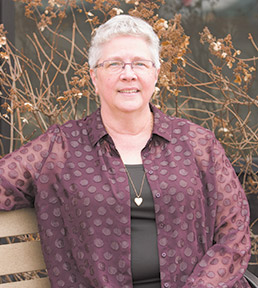 (IBJ photo/Eric Learned)
"Rhonda's quiet courage, strength and dedication are an inspiration to our staff, her fellow volunteer advocates and everyone who has the pleasure of meeting her," said Corinne Osinski-Carey, community relations coordinator for Indiana Donor Network.
Though she had no background in public speaking, Berger was asked just a few months after Jennifer's death to speak at a "Donate Life" event at Fort Wayne's St. Joseph Hospital, where Jennifer's donation took place.
"I was really nervous," Berger said, "but I was sharing my heart."
Before she knew it, she'd agreed to be a full-time speaking volunteer. What she found was that she got comfort from telling her daughter's story and helping other donor families through their grief.
"I can show them: 'Here's where I was that day and here's where I am 6-1/2 years later.'"
It also helped to hear the stories of recipients, including the teenager who got Jennifer's left kidney. Berger attended that recipient's high school graduation and open house. And then there's Betty, who has Jennifer's right kidney—Berger and her surviving children keep in touch with her.
"It's so comforting to know that Jennifer's life didn't just stop that day," Berger said. "She continues to make a difference. So many lives are changed by this. Not just the recipient, but their extended family."
Berger is a part-time nurse for IU Health Arnett Homecare in Lafayette, where she commutes from Winamac. She travels regularly to speaking events, and especially enjoys speaking to student groups. Berger's surviving daughter has helped her at some volunteer events as a way of coping with her sister's death.
"I saw her begin to smile again" as a result of volunteering, Berger said of her daughter.
Berger describes Indiana Donor Network as "an awesome group of people." She is especially impressed with the organization's after-care department, which follows up with the families of donors on significant dates in the year after the donation. "They ask: 'What can we do to help you get through this?' Sometimes they just call to make sure you're OK," Berger said.
Berger does more than speak to groups. She has served over the last four years as chairwoman or planning committee member for various Indiana Donor Network fundraising/awareness events, such as the Show Us Your Heart Run/Walk. Berger also advises recipient families.
"They often don't know what to say to thank donor families," she said. So Berger shares with them what Jennifer's recipients have said and done for her and her children.
Because of her commitment to the cause, Berger was chosen to represent Indiana donor families in the 2016 Rose Parade in Pasadena, California.
Her daughter Jennifer's likeness was one of 60 "floragraphs" that adorned the Donate Life float. Berger was amazed that Jennifer's floragraph, made entirely of seeds and spices, looked so much like her. Of the Rose Parade itself, Berger said television doesn't do it justice.•
Please enable JavaScript to view this content.