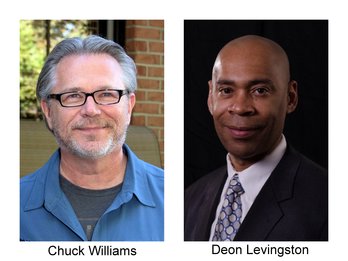 After more than 11 years as the vice president and market manager of Radio One's Indianapolis cluster of stations, Chuck Williams is out.
He has been replaced by Deon Levingston, a well-known radio industry veteran with Indianapolis roots. A Radio One spokeswoman said the change was made Monday, although a staff member said it was announced to employees on Friday. The official announcement came Tuesday. Radio One declined to make Levingston available for an interview Tuesday.
The Radio One employee said the staff was stunned by the announcement but has accepted the change.
Williams appears to have as well, saying that "my eleven years with the Indianapolis Radio One team has been nothing short of wonderful."
"I know without [a] doubt they will continue to do the innovative, outstanding work they have come to be known for," Williams texted IBJ from the Caribbean. "Their passion and commitment have made my time with them one of the most special and rewarding of my career. They are true winners." 
Radio One's local stations include WNOW-FM 100.9, WHHH-FM 96.3, WTLC-FM 106.7 and WTLC-AM 1310 as well as the new old-school hip hop station at 102.9 FM.
In recent months, WTLC-FM has been a top 5 station in this market and WHHH and WNOW have been top 15 stations, according to New York-based Nielsen Media Research.
"I am very excited to rejoin the Radio One family," Levingston said in a statement. "At the beginning of my career [Radio One CEO] Alfred Liggins and [Radio One founder] Cathy Hughes gave me my first start as a general manager and I am very happy to come home. I look forward to working with the team to grow and dominate the urban space."
Levingston is no stranger to Indianapolis.
His last job was market manager for Indianapolis-based Emmis' New York cluster, where he headed one of New York City's top stations, WBLS-FM 107.5, which played an urban format.
Before that, he worked from 1998 to 2004 at Radio One's Indianapolis cluster, starting as local sales manager for the two WTLC stations, then becoming sales director for the entire cluster in February 2001 before being promoted to market manager in June 2002. He held that position for 2-1/2 years before departing for Emmis.
This week's move involving Levingston—and Williams—caught industry insiders and local media buyers by surprise.
"This is news to me, and I know Chuck. I consider him a friend," said Scott Uecker, a University of Indianapolis communications instructor and general manager of WICR-FM 88.7. "He's well thought of in this industry and he's been very involved in this community even outside radio."
Williams made news when he was hired to lead Radio One's Indianapolis cluster in part because he's white and a big part of Radio One's audience is black. He came from Bonneville International's radio cluster in Chicago in early 2005.
But Williams was largely embraced by the local Radio Once staff, with the late Radio One on-air personality Amos Brown calling him "a blue-eyed soul brother."
Williams was known for having an open-door policy with staffers, advertisers and other Radio One customers, said Bruce Bryant, president of locally-based Promotus Advertising.
Williams was also caught up in controversy. Radio One in 2014 was the target of a sexual discrimination lawsuit filed by former employee Kelly Vaughn, who claimed she was fired for starting a TV show featuring Amos Brown and Abdul-Hakim Shabazz, while Brown was merely put on probation but not fired for participating in the show. The case was dismissed last month.
Williams also was criticized for getting beaten to the Indianapolis market with the old-school hip-hop format, a format Radio One has pioneered nationally. In Indianapolis, Cumulus Media Inc. launched the format on the FM 93.9 frequency in late 2014 and it zoomed to the top of the local charts in just a few months. It later tapered off but still remains strong compared to Cumulus' Top 40 format at that frequency. Meanwhile, Radio One didn't launch its old-school hip hop station until December 2015 with the launch of Boom 102.9 FM, which is still working to build an audience.
"Chuck was a good general manager. But I think it might have been a case where if you have a chance to bring someone like Deon in, you do it," Bryant said. "Deon is one heck of a general manager who eats, drinks and sleeps radio. He's going to be aggressive, and I think he's going to be more hands on than Chuck."
Bryant said Levingston called him in December to inform him he was coming back to Indianapolis to work for Radio One.
"He said he wanted to connect," Bryant said. "And I thought, 'uh oh, what does this mean for Chuck?'"
It's not clear why the change was made, and Radio One spokeswoman Yashima Avilove declined to elaborate. She did confirm that Williams, as of Monday, was no longer with Radio One.
Radio One distributed a press release Tuesday stating that Levingston has been hired to serve not only as general manager of the company's Indianapolis stations, but also to be regional vice president of Radio One's stations in Detroit and St. Louis.
The press release also announced that Chris Wegmann, president of radio for Radio-One, will retire on April 1. Wegmann has been with Radio-One since 2009 and served as regional vice president and general manager of the company's Dallas and St. Louis and later Washington D.C. stations before taking over the company's entire radio operations in 2013.
The press release did not mention Williams.
The move is not part of a large shake-up at Radio One, Avilove said, noting that beyond Wegmann's retirement, Williams' release and Levingston's hiring, there is nothing else to report.
Please enable JavaScript to view this content.