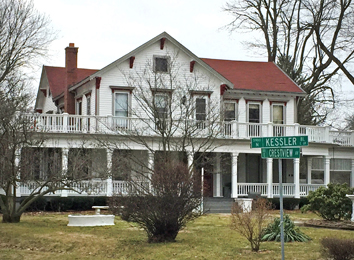 A large and historic country-style home on Kessler Boulevard, which looks out of place next to its smaller neighbors, has a new owner.
Veteran residential real estate agent Glenn Bill bought the 4,200-square-foot estate after it failed to sell late last year at auction.
The home—at 1215 Kessler Boulevard East Drive, about two blocks east of the Monon Trail—has been vacant since 2013.
Bill, 47, and his wife, Colleen, both natives of the Broad Ripple area, plan to relocate from East 71st Street and Dean Road once renovations are complete in three to four months.
Bill declined to divulge how much he paid but said the home sits on two acres easily worth $1 million.   
"Because of my extensive knowledge of that area, and my love for the home, I thought I was the right guy for it," he said.
Bill, who grew up down the street at Washington and Kessler boulevards, attended Chatard High School and has been selling homes in the Broad Ripple area for 27 years. He owned Century 21 at the Crossing before selling it in 2007 to Century 21 Scheetz, where he's now a broker.
Most passersby on busy Kessler Boulevard surely are unaware of the home's rich history that dates to the 19th century, according to the www.historicindianapolis.com.  
It was built in the 1880s on 75 acres owned by Jackson Dawson in what was then rural Indianapolis. In 1907, 25 acres of Dawson's original property was deeded to Thaddeus R. Baker, who quickly passed the property to his sister, Florence Baker Holliday. Both were children of Indiana Gov. Conrad Baker.
Three years later, in 1910, Florence Holliday sold the residence and 10 acres surrounding it to Walter Goodall, secretary of W.J. Holliday & Co. The Goodalls' only child, Eleanor Josephine, married Ralph Clemens Vonnegut, vice president and treasurer of the Vonnegut Hardware Co. and a first cousin of Kurt Vonnegut Sr., the author's father.
But in 1915, the Goodalls sold their country getaway to Albert R. Worm, one of the city's most successful butchers and meat packers. In 1937, following the death of his wife, Worm married Anna Kupfersberger, the Worms' live-in housekeeper.
Albert Worm died in 1944 and his second wife died in 1960. She left the home to William and Elsa Hubert. Hubert was the accountant and president of Banquet Ice Cream and Milk Co., which was eventually acquired by Borden Milk.
Their daughter, Elsa Marie Hubert, occupied the home until her death in 2013, when the property passed to a nephew, who sold the property to Bill.
The five-bedroom home is loaded with thick, rich trim and "incredible" inlay floors, Bill said. However, he said, through the years different interior design styles have clashed with one another.
"We need to simplify it and get it back to where it needs to be," he said.
The exterior of the home is known for its wraparound porches on the lower and upper levels.
 
Downtown real estate agent Joe Everhart said some of his clients had expressed interest in the residence.
"It's rare to find such an untouched piece of property, and it reminds you of what the area used to be," he said. 
 
Please enable JavaScript to view this content.