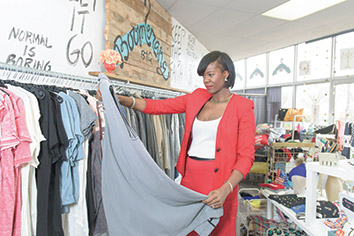 Basketball was just a vehicle for Shyra Ely-Gash—and she drove it right where she wanted to go.
In 2009, in the twilight of her six-year WNBA career, Ely-Gash started a fashion consulting firm catering to professional athletes, college and professional coaches, and business executives.
Now she's using her fashion sense to promote and expand festivities surrounding this year's NCAA women's Final Four in Indianapolis.
"I grew up wanting to be a fashion designer," the Indianapolis native said. "I was always the girl people came to for fashion advice."
Basketball, she said, "came much later."
Ely-Gash admits being a bit of a unicorn—girly and an athlete.
"I was a prissy tomboy," she said.
"Growing up with two brothers, I discovered sports—and basketball. I just happened to be pretty good at it," Ely-Gash added with a laugh.
Was she ever.
At 6-2, she led Ben Davis High School to back-to-back state championships and won the 2001 Indiana Miss Basketball crown before becoming an All-American playing for Pat Summitt at the University of Tennessee.
But Ely-Gash wasn't learning only how to play basketball from the legendary Lady Vols coach.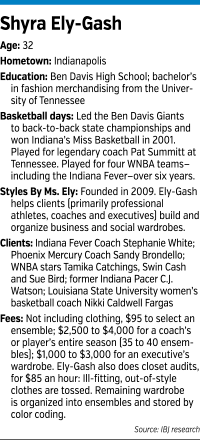 "She was always stylish. Always smartly dressed," Ely-Gash said of Summitt. "I saw the positive impact that had on people around her, and the impressive image it helped her build. I wanted that."
Ely-Gash used her full scholarship to earn a U-T degree in fashion merchandising. During college, she interned as a buyer for a retail chain, but quickly learned that was not the direction she wanted to go.
"It was definitely a good experience. But being a buyer was a lot of number-crunching and [retail trend] forecasting," Ely-Gash said. "I wanted to work more directly with people, not crunch numbers in a calculator all day."
While she was playing for the WNBA's Seattle Storm in 2008, the idea for her company, Indianapolis-based Styles By Ms. Ely, started to come together. The WNBA that year instituted a new dress code, and Ely-Gash saw many teammates struggling to deal with the policy.
Relying on her childhood and teen experiences dressing her friends, Ely-Gash jumped in to help her teammates. In 2009, when playing in Chicago, she helped dress several teammates for the WNBA's All-Star weekend.
Her Chicago teammates, she said, were surprised at what an impact their new wardrobes made.
"In some ways, I don't think they ever thought about the impact their off-court appearance could have on themselves or their careers," Ely-Gash said.
Building the base
Her big break came when her assistant coach at Tennessee, Nikki Caldwell Fargas, became the UCLA women's head coach.
"I have to give Nikki a lot of credit for helping me make this a business," Ely-Gash said. "I said, 'Hey, can I dress you for a few games?' She said yes, and a lot of people noticed. I got a lot of exposure."
Fargas is now the Louisiana State University head coach—and still a client. That's led to a number of referrals, Ely-Gash said. Most of her marketing is through word of mouth and social media, she said.
Her client list includes Indiana Fever Coach Stephanie White and Indiana Fever star Tamika Catchings, as well as WNBA stars Sue Bird and Swin Cash and former Indiana Pacer C.J. Watson.
She's also making a name as the NCAA's brand ambassador for this year's women's Final Four in Indianapolis. She's hosting the first-ever style show in conjunction with the event. The games will be held in Bankers Life Fieldhouse April 3-5, and the show will be the Friday of that weekend in the Indiana Convention Center.
NCAA officials expect up to 6,000 spectators to attend Ely-Gash's Hoops Meets Heels featuring 70 models, including basketball players and coaches as well as media members and central Indiana celebrities.
"The fashion show will mimic a basketball game," Ely-Gash said. "It's going to be really unique."
It will also include a showcase ofclassic Pat Summitt ensembles "with a modern twist," Ely-Gash added. A concert featuring Salt-n-Pepa will follow.
And before the Final Four weekend ever tips off, Ely-Gash is making dozens of media appearances on behalf of the event in her hometown.
"With Shyra serving as a brand ambassador and also involved in the fashion world, it was a natural to include her," said Anucha Browne, NCAA vice president for women's basketball championships. "We have high expectations for both [the fashion show and concert], which are free and open to the public."
Ely-Gash has always subscribed to the notion that style and beauty are more than skin deep.
"Style has a lot to do with yourconfidence and self-esteem," she said. "If you look good on the outside, I guarantee it will have a positive impact on the way you feel and conduct yourself. And that can have a positive impact on everyone around you. For someone like a college coach, it can definitely affect recruiting."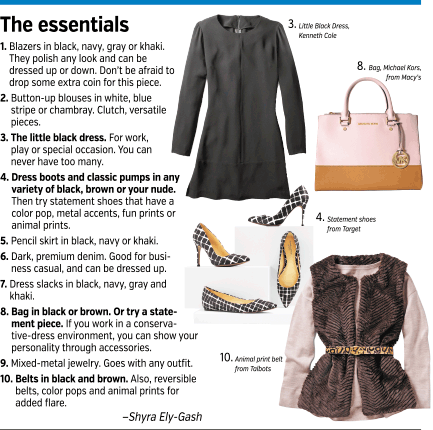 Before she selects clothes for a client, Ely-Gash said, she takes time to get to know them and what they're about.
"Then she nudges you to get out of your comfort zone and expand your horizons," said the Fever's White.
"I'm very conservative, so it's taking Shyra a while with me," White said. "She's helped me incorporate more patterns, more bright colors, more snug-fitting pants that come close at the ankle and sleeveless shirts. As a coach, I have to realize I'm representing not only myself, but my team and my league and I'm a part of drawing people to the game."
Red carpet to the sidelines
Hollywood actors and politicians have long used fashion consultants and stylists, but they've been widely used by athletes and coaches only the last five to 10 years, said Ken Ungar, an Indianapolis-based sports marketing consultant and former Indianapolis Motor Speedway chief of staff.
"The way you dress and look is infinitely connected and very important to a person's personal brand," Ungar said.
His firm, US Sports Advisors, counsels clients to "be purposeful in how you dress." Ungar has a couple of fashion consultants he uses for his athlete clients. He said "well over 50 percent of all athletes" in stick-and-ball sports and motorsports now use fashion consultants.
"For a professional athlete, it starts with the draft," Ungar said
The importance of how an athlete, coach or even business executive looks in public has been vastly accelerated by the spread of social media.
"We are in such a visual society now," Ungar said. "Every social media platform—Facebook, Twitter, Snapchat and Instagram—is so photo- and video-heavy. How you look today has a bigger impact on your brand and image than ever before."
When asked about the success of slovenly sports figures like New England Patriots Coach Bill Belichick and University of Michigan football Coach Jim Harbaugh, who professes to buy his pants at discount retailers, Ungar shrugged and said, "That's their brand.
"But there are a lot more people who want their brand to be more stylish," he added.
A stylish image can position athletes and coaches for more and better endorsement deals and media jobs after their playing and coaching careers are over, said Larry DeGaris, director of academic sports marketing programs at the University of Indianapolis.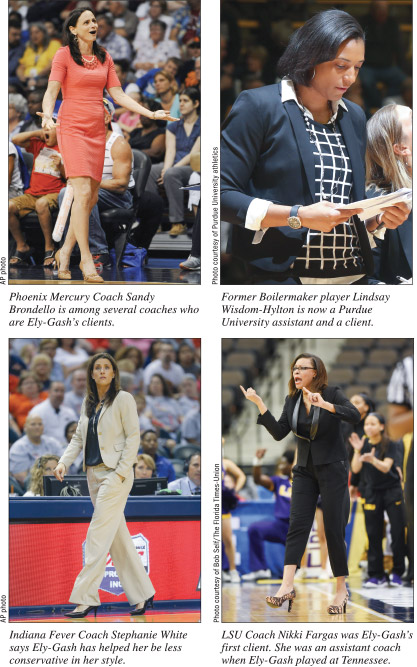 "There are precious few companies in America or the world that want to be represented by a slob," DeGaris said. "And you can't wait until your playing days are over to start worrying about it. By then, your image is often set."
DeGaris isn't surprised someone like Ely-Gash would find a solid client base.
"Some people—whether educated or not—don't even know what black-tie or cocktail attire is," he said.
The fashion-consultant industry is extremely competitive, Ungar said, with a high level of discretion required. "A lot of people don't want you to know they've hired a stylist or fashion consultant."
For a price
Ely-Gash charges $95 to select a single ensemble. Clients pay for the clothes and Ely-Gash's travel expenses.
She charges $2,500 to $4,000 to select attire for a player or coach to wear for an entire season (35 to 40 ensembles) and $1,000 to $3,000 to select an executive's wardrobe.
Ely-Gash also does closet audits, where wardrobes are organized and ill-fitting, out-of-style clothes are tossed. The remaining wardrobe is matched into ensembles. Photos are provided to clients for future reference and clothes are stored by color coding. That service costs $85 an hour.
Clients of companies like Styles By Ms. Ely are paying for something that is difficult to come by—and it's not stylish clothes.
"You're paying someone to tell you the truth. And not everyone will," DeGaris said. "The people close to you are often the last to tell you when something needs to be fixed."
Eighty percent of Ely-Gash's clients are women, but she's hoping to build her male client list. Ely-Gash admitted her service "is a luxury. But it's also a matter of efficiency for busy people."
January through March—the height of the basketball calendar—is her busy season. March Madness could be used to describe Ely-Gash's business in addition to the NCAA hoops tournament.
"I dress a lot of coaches this time of year for conference tournaments and the NCAA tournament," Ely-Gash said. "Everyone wants to look good for March Madness. That's when the cameras are rolling."
Please enable JavaScript to view this content.