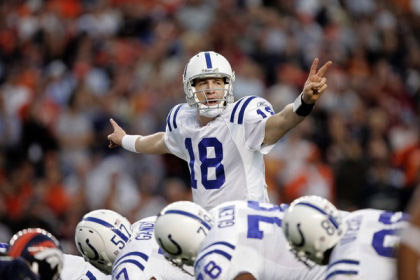 Indianapolis Colts owner Jim Irsay delivered two big pieces of news during a noon Friday press conference to honor quarterback Peyton Manning.
Irsay, with Manning by his side, announced the Colts would erect a life-size statue of Peyton Manning in front of Lucas Oil Stadium and that he would retire Manning's No. 18, adding that it would hang right next to Johnny Unitas' No. 19.
"We will build a statue of Peyton … that will be up for a very long time," Irsay said during the press conference. "It will be a destination for our fans."
Irsay even said fans could "leave a Budweiser or a note for Peyton" at the statue and promised that Colts officials would get those notes to Manning.
Irsay compared the Manning statue to Jim Morrison's gravesite, although he added with a chuckle, "It's not a grave."
"I can't tell you how honored and humbled I am," Manning said during the press conference at the Colts complex on the city's northwest side.
Manning, wearing a horseshoe on his lapel, noted that the Colts was the team "that I really wanted to play for. I really wanted to be drafted by the Colts."
Manning choked up on a couple of occasions, but they were nothing compared to the tears he shed during his farewell press conference last week in Denver, where he was feted by the Broncos. Friday's press conference in Indianapolis was attended by a handful of local dignitaries, including former Mayor Greg Ballard, current Mayor Joe Hogsett and Emmis Communications Corp. Chairman Jeff Smulyan.
Manning spent more than 15 minutes thanking a long list of coaches, players, Colts team personnel and others, as well as recalling myriad memories from his favorite central Indiana restaurants and golf courses; his first experience meeting Irsay at the Surf Club in Miami; and his first time in the Colts complex. He also noted how he saw Indianapolis grow from a motorsports- and basketball-centric town to a football town.
While Manning said many of his Colts records eventually will be broken, he added that he doesn't think the record number of touchdowns to a single receiver—Marvin Harrison—will ever fall.
Manning threw 112 touchdown passes to Harrison and 953 total passes, both Colts records.
"I'll always be a Colt," Manning said. "I can't tell you how much I enjoyed playing here for 14 years. I thank you all from the bottom of my heart."
Manning told those at the press conference he has not yet decided what he'll do next professionally. He did say he plans to go see his brother Eli play more, as well as his University of Tennessee alma mater.
 
Please enable JavaScript to view this content.