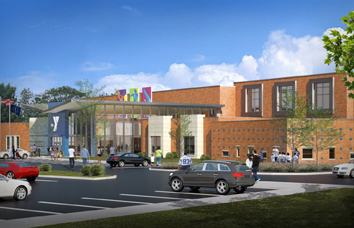 A foundation established by the OrthoIndy physicians group has agreed to contribute $3 million for the construction of a YMCA on the northwest side, which in turn will take the name of the organization.
The $10 million facility at 5315 Lafayette Road in Pike Township will be named the OrthoIndy Foundation YMCA, officials for the charitable group and YMCA of Greater Indianapolis announced Wednesday afternoon.
Foundation officials said they were drawn to the center's mission to serve veterans as well as the general public. The Pike YMCA will include programs and services tailored to U.S. military service members, veterans and their families.
The Indianapolis-based Richard L. Roudebush VA Medical Center agreed last year to provide medical services for veterans through the YMCA. The 45,000-square-foot building will have 5,000 square feet dedicated specifically for veterans, officials announced last year.
"Since it was launched in 2012, the OrthoIndy Foundation has sought an opportunity to make a profound, lasting impact on the lives of veterans," said OrthoIndy Foundation Chairman Dr. John Dietz in a prepared statement.
Including the $3 million gift from OrthoIndy, the YMCA has raised $7 million of the $10 million required to fully fund the new facility. Architectural planning is under way, but there is no timetable yet for construction.
The new facility is expected to be built on 12 acres donated to the YMCA in 2007 by the Metropolitan School District of Pike Township.
The current, 16,000-square-foot Pike Township YMCA, located on the corner of 71st Street and Zionsville Road, does not have a gym or a pool.
"It's not meeting the needs. It's not meeting the demand," Eric Ellsworth, CEO of the YMCA of Greater Indianapolis, told IBJ in August. At the time, the Pike Township YMCA had 3,900 members. The new YMCA could serve as many as 12,000 residents.
OrthoIndy, which specializes in orthopedic care, operates a variety of clinics, hospital facilities and urgent care locations across central Indiana.
 
Please enable JavaScript to view this content.