Newly built homes for under $250,000 are becoming much scarcer in the Indianapolis area, making it harder for first-time buyers and others to afford one.

Industry experts point to a host of factors for the increasing shortage but say it's mostly driven by the state's property tax caps coupled with rising home-building fees charged by municipalities.

The dearth is becoming so pervasive that Steve Lains, CEO of the Builders Association of Greater Indianapolis, referenced it in a recent BAGI report highlighting the nine-county area's building permit activity.

While only 23 percent of residents in the area can comfortably qualify for a mortgage of $250,000 or more, Lains argued, development costs and local regulations often prohibit homes from being built below that price point.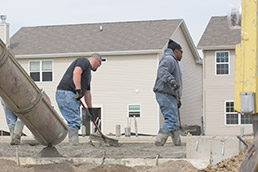 Arbor Homes owner Curtis Rector said municipal officials prefer homes that cost $350,000 or more, even though there's big demand for homes in the $250,000 market. (IBJ photo/Eric Learned)
"It's gotten frightening when you're talking about $250,000 as affordability," Lains told IBJ. "We believe, as an industry, it's stymieing the opportunity for home ownership."

Indiana's property tax system, which limits residential taxes to 1 percent of a home's assessed value, is partly to blame, experts say. Many cities and towns are forgoing more affordable housing developments because they no longer generate enough in property taxes to cover necessary services, particularly in a growing suburb.

"If you want 'X' number of policemen and firemen, we need this revenue to maintain that level," Noblesville City Councilor Greg O'Connor recently told IBJ.

Also, more communities are charging higher fees to construct a home, which is driving up prices. Road and park impact fees, in addition to sewer and water availability fees, might add $7,000 to $10,000 to the cost of building, said Paul Rioux, president of Platinum Properties.

Rioux has been in the home-building and residential development business for 30 years and in 1997 founded Platinum, which develops and sells home lots to builders.

He said the largest expense a builder pays when constructing a home is the price of a lot. But the higher fees, coupled with the property-tax issue, are making it harder for builders to justify building less-expensive homes.

"There's a great misconception that a house has to have a certain value or it doesn't pay its way because the taxes you get aren't enough to cover the cost of the home," Rioux said. "That's a very simplistic view of home sales, in general."

Last month, Indianapolis-area home builders enjoyed their best February in almost a decade, filing the most construction permits for the month since 2007.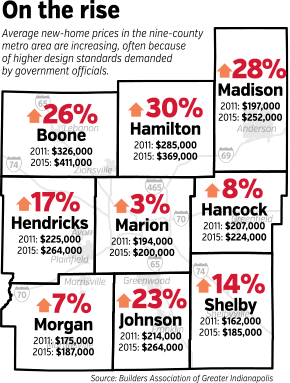 Still, coming out of the recession, the number of building permits filed annually in the metro area has held steady at about 5,000. Lains expects the number to remain relatively flat in 2016—a far cry from the 13,200 filed in 2005, before the housing market went bust.

Lains thinks the amount would be higher if more affordable homes were being built.

"We think there's higher demand at lower price points," he said.

From 2011 to 2015, average prices for new homes rose in all nine metro-area counties, according to BAGI, with some increases too large to attribute to simple inflation.

The average price of a new home climbed the most in Hamilton County, from $285,000 to $369,000—a 30 percent jump. Boone County saw new-home prices rise 26 percent, from $326,000 to $411,000, and Johnson County, $214,000 to $264,000, or 23 percent.

In Marion County, the average new-home price increased just 3 percent, from $194,000 to $200,000.

To the west, Hendricks County reported a 17 percent gain, from $225,000 to $264,000. In the same five-year span, the average price of a new house in Brownsburg increased from $205,000 to $234,600.

Town officials have updated building codes in an attempt to improve designs, accounting for some of the increase, Brownsburg Town Manager Grant Kleinhenz said. Also, new homes in higher-end developments such as Wind Ridge and North Ridge are priced above $250,000.

Yet the town isn't about to abandon the more reasonably priced market, he said.

"We generally believe a home valued around $200,000 begins to pay its own way, meaning it pays enough property taxes to pay for services," Kleinhenz said.

Locally based Arbor Homes is one of the few builders constructing homes in the $200,000 range. But it's not easy. Getting town and city councils to zone property for those homes and then meeting local architectural standards without going over budget are difficulties Arbor often faces.

"Municipalities are very upfront when saying they don't want housing under $350,000," said Arbor owner Curtis Rector. "But we try and show them the demographics of where the demand is."

That demand for lower-priced homes, coupled with little competition, has served Arbor well. In 2014, according to the most recent IBJ statistics, Arbor filed 700 building permits—the most of any builder in the nine-county area—despite the trend toward higher-priced houses. And those homes are needed.

When Fishers, for instance, lures a large retailer such as Ikea, it's going to need more affordable housing for employees, Rector said. Ikea workers are typically paid about $11 an hour.

To get those jobs, and the cachet of luring a large company, cities and towns often dangle incentives, further increasing their reliability on residential property taxes.

"A lot of the time, they will give tax breaks and incentives to those companies, and they exacerbate their tax issues," Rector said. "They rely more on residential and [the price of a home] has to go up."

Inventory also is a factor and, in Hamilton County, it's especially tight.

Beazer Homes bought a 36-acre lot near 126th Street and Lantern Road and plans in November to start building homes starting in the $300,000 range. Demand already is strong, said Laura Musall, a real estate agent at F.C. Tucker Co. Inc.

"They think they're going to have to hold a lottery for the lots," she said, "and they're one-story homes."•