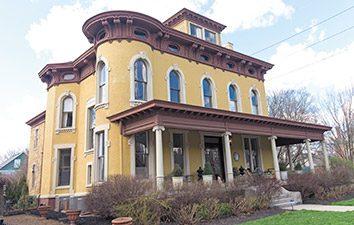 Real estate agent Joe Everhart and his husband, Ken Ramsay, faced an epic challenge when they bought and remodeled their 8,500-square-foot Old Northside home—mostly because the three-story behemoth hadn't served as a "home" for nearly a century.
Originally built in 1873, the Italianate structure housed its architect, Anthon J. Gerstner, until 1903, when it was purchased by John M. Dalrymple, president of the Indianapolis Saddlery Co.
In the late 1920s, it passed to the Mystic Order of Veiled Prophets of the Enchanted Realm (aka the Sahara Grotto, a Masonic organization) and became a meeting hall. Finally, in 1942, it was sold to a German-American social club, the Saenger-Chor, which also used it as meeting space.
There things stood until Everhart and Ramsay, who have lived in the Old Northside for decades, took an interest in the gigantic structure, which sits in the 1200 block of Park Avenue. They saw potential—even though it was painted battleship gray and sported a parking lot in its yard.
"We would walk by the house often," Everhart said. "We thought it would be great to renovate someday."
That "someday" was 1994 (although it's had a recent update as well). Everhart, who started attending Saenger-Chor gatherings, was asked by the club to help them sell the place. Instead, he bought it. Then the hard work of undoing decades of oddball floor plan changes commenced.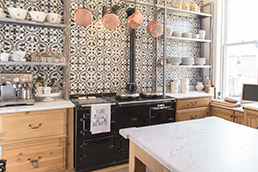 The house got a recent update that included a revamped kitchen. (IBJ photo/Eric Learned)
Few traces of its former life as a residence remained. Most of the first floor's interior walls had been removed, and the floor covered in linoleum. A portion of the expansive porch had been enclosed and turned into a men's room, and bingo equipment used by the Saenger-Chor was still parked in a corner.
It took approximately two years to make the home look homey again. The first floor's linoleum was removed, revealing beautiful wood floors that were simply too damaged to be saved. But their wear patterns revealed where the walls once stood.
"We could see ghostly outlines of where the rooms were," Everhart said.
Most of those walls were rebuilt and the ruined floors replaced by sassafras wood in a herringbone pattern. The new walls are intentionally quite thick, in keeping with the style of the times, and sport Greek columns in their connecting archways. The first floor contains a large entryway, two adjoining parlors, a dining room/library, an ornate family lounge/media room and a recently remodeled kitchen.
The living areas are accented with pieces of African and Indian art and other items the couple has picked up on their world travels.
"We wanted the interior space to articulate our interest in different cultures and the art that we collect," Everhart said.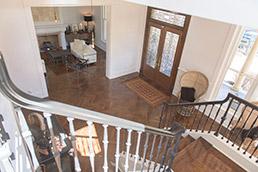 At some point, a previous owner removed the home's grand staircase, which Ramsay and Everhart had to replace. But the lack of traffic upstairs meant some of the original elements, including the flooring, could be restored. (IBJ photo/Eric Learned)
One of the biggest changes was replacing the home's massive main staircase, which for some reason had been removed in 1927. This odd design choice spared the second and third floors—which could no longer be easily reached—from devastation. The couple found them to be time capsules, sporting intact oak floors with walnut inlays, and solid doors with intricate hardware.
The second floor now hosts several guest bedrooms and the couple's master suite, complete with steam shower, laundry area, sitting area/office and its own screened-in balcony.
"It's very self-contained," Everhart said. "It's like having a little apartment."
The third floor offers two more bedrooms (formerly servants' quarters), a theater room and an area that was used, back in the 19th century, as a ballroom.
The home's stucco exterior, formerly gray, has been painted a festive yellow in keeping with its original Italianate design, and its porch has been fully rehabilitated. The former parking lot is long gone, replaced by two single-car garages that mimic Italian villas and are painted to match the house.
Though the couple admits that 8,500 square feet might be a bit much for just two people, it comes in handy for entertaining.
"We've had gatherings of 400 people here," Everhart said.•
 
Please enable JavaScript to view this content.