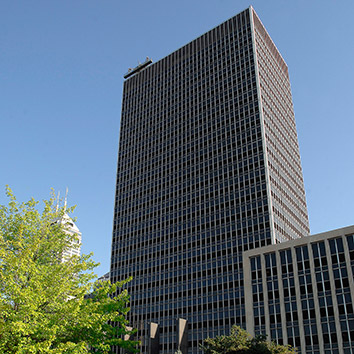 Joe Hogsett built his mayoral administration by putting names on a white board.
Name after name of possible cabinet members appeared there in the weeks after November's election as Hogsett uttered a frequent refrain to aides helping conduct the search: "Cast a wider net."
"We wrote down who we would project as first-round draft picks," said Hogsett's chief of staff and chief deputy mayor, Thomas Cook. "That took weeks and weeks.
"We challenged ourselves to say, 'Do we have a list of talented people that reflects the community and reflects a true search outside of our comfort level of who might typically be involved?'"
The result is a cabinet that's a purposeful mix of longtime advisers and relative strangers. Private-sector workers, government officials and local not-for-profit leaders. Political experience and affiliation on both sides of the aisle. And demographically diverse, with women and minorities in key leadership roles.
"He's bringing to life this thought exercise he's pushed for years," Cook said. "Whenever you present something to him, he forces you to view it through every single one of those perspectives."
There wasn't much talk inside Hogsett's mayoral campaign about what his eventual administration would look like, advisers said. Part of it was superstition, despite the Democrat's dramatic advantage in name recognition, public-service experience and fundraising dollars over his opponent, small-business owner Chuck Brewer.
But mostly, Cook said, Hogsett didn't want to mix "the natural tension and small politics of a campaign with the big, important questions of governance."
It wasn't even until late December that job titles started popping up on the board next to the names of people Hogsett wanted to hire. The goal was to build jobs around people and priorities, Cook said, and not to feel bound by the structure of the previous administration.
"We were able to have that conversation freely," he said.
Who's on board?
The mayor's cabinet includes a wide range of personal relationships and experience. In many cases, Hogsett has tapped already-trusted colleagues.
The Rev. David Hampton, who is deputy mayor of neighborhood engagement and remains a pastor at Light of the World Christian Church, was a seminary classmate of Hogsett's and a longtime friend.
Cook started working as a speechwriter and aide to Hogsett when he was U.S. attorney, and since then, the two have "spent nearly every waking professional and sometimes personal moment" with each other the past five years, Cook said.
Ahmed Young, who oversees charter schools in the administration and other education initiatives, and Camille Blunt, the mayor's legislative director, both worked with the mayor at Bose Public Affairs Group.
Tim Moriarty, who came from Faegre Baker Daniels and is now the mayor's special counsel, served as a volunteer driver for Hogsett in 2004 during his unsuccessful campaign for state attorney general.
"I got in the car next to him and he proceeded to explain to me that I wasn't the first driver, I was just the new driver," Moriarty said. "The mayor moves very fast, and the prior driver went about 10 miles under the speed limit. He wanted to make sure I would at least go the speed limit."
Emily Mack, director of the Department of Metropolitan Development, has spent her career in preservation and city planning. But she said she didn't meet the mayor until about two years ago after an east-side neighborhood meeting, where she was engaged in a conversation about a small-business owner who was having problems with city permitting.
"Mayor Hogsett was at that meeting and overheard us talking," Mack said. That led them to get to know each other.
Jeff Bennett, deputy mayor for community development who previously worked at the Illinois Facilities Fund and Indiana Landmarks, has been having lunch with Hogsett regularly for years, talking about politics and issues of the day. Bennett served as Warren Township trustee for about eight years.
But Bennett said he's learned something new about Hogsett. Since starting his job, Bennett's come into his office to several news clippings on his desk.
"I found out the mayor reads the newspaper every day with a pair of scissors in his hand," he said. "He's the clipping service. It established to me that he's paying attention and accountable."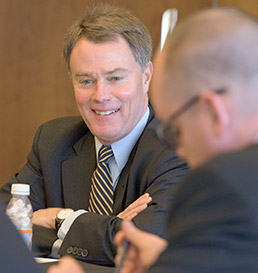 Hogsett conducted a meeting March 23 with his senior staff, which includes some advisers he's known for years and some he's gotten to know recently.
 (IBJ photo/ Eric Learned)
Other key cabinet members are building brand new relationships with the mayor.
Controller Fady Qaddoura, a computer scientist who has been tasked with what Hogsett calls goal "1A" of his administration—shoring up city finances and fixing a structural budget deficit—didn't know Hogsett until he ran for mayor.
Qaddoura grew up in the West Bank before moving to the United States to pursue college in New Orleans. He left there during Hurricane Katrina, which destroyed his home and most of his possessions. With a 3-week-old baby in tow, Qaddoura and his wife were homeless living in Houston. That experience sparked a passion for public service, and one of his professors suggested he pursue studies at Indiana University's School of Public & Environmental Affairs.
Since then, he's worked in the administrations of Republican governors Mitch Daniels and Mike Pence. He describes himself as nonpartisan.
Lori Miser, director of the Department of Public Works, worked for former Mayor Greg Ballard's administration in that role, and officially met Hogsett just last year.
Linda Broadfoot, director of the Indy Parks Department, has spent most of her career in not-for-profits, leading organizations that include Keep Indianapolis Beautiful and the Indianapolis Public Schools Education Foundation. She said she had coffee once with the mayor about six years ago.
So she was caught off guard when she got a request to meet with him in January; she didn't have any expectation that it was about a job in city government.
"I've never been an insider to this degree before," Broadfoot said. "But if I step back and look at everything in my career and everything I care about as a citizen of Indianapolis, this is kind of a culmination for me. I've figured out why I'm the right person for the job right now. Indy Parks is in need of a shot of energy."
'Good energy'
Cook said the group has gelled quickly, fostering cooperation—and frequent arguments—that have led to better ideas.
"There's fearlessness when it comes to questioning each other and not having people take that personally," Cook said. "We could be pretty frank and honest with each other right off the bat. It's such a good energy."
For those who stay with the team for the long haul or emerge as leaders, the effect on the city—and the individual—has nearly limitless potential.
Mitch Daniels, now president of Purdue University, started out as an aide to former Indianapolis Mayor Richard Lugar. U.S. Rep. Susan Brooks was once deputy mayor in former Mayor Steve Goldsmith's administration. The list goes on.
Moriarty, Hogsett's former driver who is now his special counsel, said thinking about the list of former public servants makes him energized to try to solve the big problems Hogsett laid out in his campaign, such as reducing crime and child poverty.
"These are remarkable and giant challenges, things that may not be solved in the lifetime of this administration, but my hope is that we can make changes that are generational," Moriarty said. "To bring up a new generation of leadership is something that Mayor Hogsett is cognizant of. It's exciting to be part of that team."•
Please enable JavaScript to view this content.