Speedway officials are seeking proposals to redevelop three parcels of land, including the last two the town owns on its rejuvenated Main Street.
The sites, at 1346 Main St. and 1426 Main St., both are on the west side of the street toward the north end. The other sits at the town's west end near Interstate 465.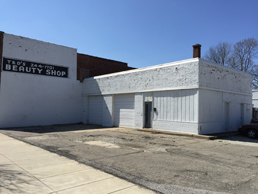 Speedway officials hope to get proposals on the Main Street sites that once housed a small medical center (top) and a service station. (IBJ Photos/Scott Olson)
The parcel at 1346 Main St. formerly housed a service station that remains standing, while 1426 Main St. is known as the former Speedway Family Physicians building.
They sit less than three blocks from the new roundabout that connects Main to West 16th Street and Crawfordsville Road outside turn one of the Indianapolis Motor Speedway.
Speedway bought both properties in recent years as part of its quest to transform its once-desolate Main Street into a hub of activity.
The two properties already are receiving interest, so going through the formal process of accepting proposals is the next logical step, Speedway Town Manager Ian Nicolini said.
"With the development that has already taken place, it's a good time for us to see what redevelopment possibilities exist," he said.
Speedway will accept proposals on the two sites until May 5 and will unseal the bids at a public meeting the following day, according to the public notices.
The Main Street sites could be redeveloped into something larger than what currently sits on them, Nicolini said, though in their current states retail would be the best fit.
"That's what we've encouraged," he said.
Shelbyville-based Daredevil Brewing Co. in June opened its tap room as part of a $3 million investment in a 10,000-square-foot microbrewery at 1151 Main St. Farther south, at 10th Street, Nashville, Indiana-based Big Woods is constructing a 7,500-square-foot restaurant and beer garden.
Also, Sarah Fisher's 60,000-square-foot Speedway Indoor Karting facility is set to open April 1 on the east side of Main Street north of the Dallara IndyCar factory.
And an affiliate of locally based Paradigm Real Estate Investments soon is expected to start refurbishing the Rosner Drugstore building at 16th and Main. Paradigm plans to invest $1 million to renovate the building and demolish an adjacent structure to make way for 15,000 square feet of retail, restaurant and office space.
The town in 2006 bought the building, which was constructed in 1915 and is believed to be the oldest retail building on Main Street.
The biggest project, though, is a $50 million mixed-use development adjacent to IMS that would anchor Main Street.
Loftus Robinson and Scannell Properties expect to start construction in the summer on the five-story building and finish it in 2018. Plans call for 150 apartments, 10 condominiums, a 120-room hotel, 15,000 square feet of retail, and a 500-space parking garage.
It's all part of a plan hatched in 2008 to create a retail and entertainment district along Speedway's Main Street, which for decades had seen limited activity despite the presence of the racing behemoth a block away.
Outside Main Street, Speedway also is taking proposals for 22.3 acres of land east of Interstate 465 at the northwest corner of Crawfordsville and High School roads.
Speedway assembled the land, which once contained three hotels, following the reconfiguration of the Interstate 465 and 74 interchange with Crawfordsville Road.
The town is hoping to lure at least one large tenant that could take 10 acres, Nicolini said, to help serve as a gateway for visitors to Speedway.
"The area out at 465 is very important," he said. "It serves as a bookend and anchor for Speedway redevelopment."
 
Please enable JavaScript to view this content.