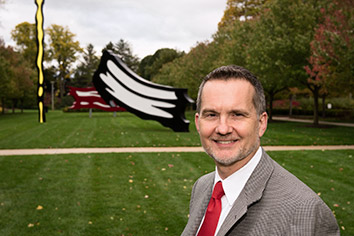 The Indianapolis Museum of Art has given CEO Charles Venable a contract extension that will keep him in the position for another 10 years, the IMA announced Tuesday.
Venable signed a five-year contract when he joined the IMA in October 2012. That agreement has been replaced with an employment pact that extends his term of service until Jan. 1, 2026.
"The new agreement reflects the confidence the Board of Governors has in Charles Venable's leadership," Board Chairman Tom Hiatt said in a written statement. "We recognize and appreciate the many significant achievements Charles has made over the course of the past three and half years, including the development of a new 10-year strategic plan for the institution."
Venable, 56, officially has the title of "Melvin & Bren Simon Director and CEO," a name given to the position after late shopping mall developer Melvin Simon and his wife, Bren Simon, donated $10 million to the IMA in 2007 to endow the director and CEO position.
Board officials credit Venable with reducing the museum's financial reliance on its endowment and for beefing up IMA membership.
Under Venable, the IMA has reduced the endowment draw from 8 percent to 5.8 percent, the museum said. Its goal is to reduce the draw to 5.5 percent this fiscal year.
Venable has seen IMA memberships grow from 5,000 to a record high of 15,000 under his tenure, but his strategy to do so sparked controversy. A year ago, the museum began charging an $18 admission fee, replacing a free-admission model that had been in place 64 of the previous 65 years.
The admission charge, however, worked as planned, prompting frequent visitors to buy annual memberships at $55 for individuals and $75 for families instead of single-admission tickets.
"I am thrilled and humbled to be asked to lead this great institution for another decade," Venable said Tuesday in written remarks. "Over the past three and a half years we have made much progress. I look forward to continuing the great work we now do and to executing new initiatives consistent with our new strategic plan. I am honored to work with a supportive board, talented leadership team and an enormously dedicated staff on this journey."
   
Board officials also gave credit to Venable for expanding the IMA's programming lineup and for landing major art and capital gifts, including a $10 million gift from the Lilly Endowment to establish an endowed Innovation Fund.
Venable joined IMA after five years as director and CEO of the Speed Art Museum in Louisville. He replaced Maxwell Anderson, who left the IMA to become director of the Dallas Museum of Art.
Venable quickly shook up his management team and initiated an organization-wide restructuring that reduced employment.
He previously spent five years as the Cleveland Museum of Art's deputy director for collections and programs. The native of Texas worked for 16 years at the Dallas Museum of Art before leaving for Cleveland in 2002.
Venable earned his doctorate in American studies at Boston University in 1993. He also has a master's in fine and decorative art from the University of Delaware and a bachelor's in American history and art history from Rice University.
 
Please enable JavaScript to view this content.