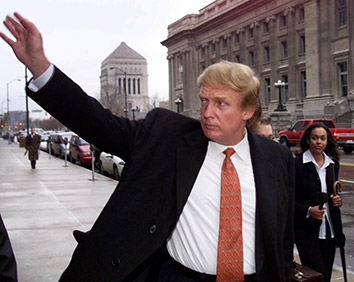 Donald Trump the presidential candidate is bombastic, outlandish and has a penchant for making grand promises—"I'll build a great, great wall…"— that might be too good (or awful, depending on your sensibilities) to be true.
To some observers in Indiana, Trump's behavior on the campaign trail resembles their interactions with him during a storied business history in Indiana, namely as owner of a casino in Gary and would-be operator of another in French Lick.
Though Trump's business dealings in Indiana happened years ago, Ed Feigenbaum, a longtime observer of Indiana's gambling industry, said the way Trump approached his two casino deals here is a "microcosm" of his behavior on the campaign trail.
"It's probably a good indication as to what he'd be like as president," said Feigenbaum founder of INGroup, which publishes several public policy newsletters. "He came in with a lot of bling and bluster, invested everything he said he would and then some, he got into a little bit of friction with investors and partners, and in the end he left the state at the right time for him, having made a whole lot of money."
Trump's first venture in Indiana—opening a casino along Gary's lakefront—started with sweeping aspirations and promises.
Trump said his $153 million ship—"the most beautiful gaming boat I've ever seen," he boasted—was the beginning of a new era for Gary, which had long faced a sagging economy.
"I could've done a less expensive boat," Trump told Crain's Chicago Business at the time. "I could've bought a used boat. But I really wanted it to be the finest of its kind. I like to go first class. It's the only way I do business."
He called it "the beginning of the end of those rough times" for Gary and, at first, the Trump casino ruled. Nearly 140,000 gamblers dropped $107 million there in the first three weeks, according to the Times of Northwest Indiana.
But after a glitzy start, the Trump boat had trouble competing for customers with other casinos in The Region. In 2006, Trump left town altogether, selling the boat to one of his rivals.

Hughes
"Running for president, he's saying a lot of things he's uninformed about and he'll never deliver on, and that's the same thing he did in Gary," said Chuck Hughes, a former Gary city council member who now runs the city's chamber of commerce.
Trump claimed at the time that he would bring Gary clout and national prominence. And Trump's Miss USA pageant was hosted in 2001 and 2002 in Gary, which the city thought would boost its stature.
But Hughes said the pageant ended up being a drain on taxpayers. News reports from the time said the city spent a total of $3.4 million over two years as host.
"Trump came in with his thoughts of grandeur," Hughes said. "The city of Gary had to pay for everything—for the contestants to go on shopping sprees in Chicago along Michigan Avenue and trips to the [Chicago Bulls'] United Center. That was a major disaster."
Ultimately, said Jenny Reske, a longtime employee at the Indiana Gaming Commission, Trump fulfilled his duties to the state as far as the Gary casino is concerned.
"He was a licensee in good standing the entire time he was here," Reske said.

Daniels
'Very bad blood'
But in typical Trump fashion, he also made a few enemies along the way.
Partnering early on with two well-known Indiana businessmen—Bill Mays and Louis Buddy Yosha—led to a lawsuit, with Mays and Yosha alleging Trump had broken a contract that was supposed to give them 1 percent stakes in the Trump casino.
A judge initially awarded Mays and Yosha $1.4 million in damages, but found that Trump was not personally responsible. An appeals court later reversed the decision, finding that "Mays and Yosha were essentially seeking millions for almost nothing because for a time they thought they were going to get exactly that, millions for almost nothing."
Feigenbaum said there was "very bad blood" between Trump and Mays and Yosha after that.
Then there was Trump's longtime feud with another prominent Donald: the late Donald H. Barden, who owned the Gary Majestic Star casino right next to Trump's boat on Lake Michigan's Buffington Harbor.
Trump and Barden "never got along from the start," said Ernie Yelton, former executive director of the Indiana Gaming Commission.
The two Donalds were essentially competing for the same business, and were sometimes forced to work together by state regulators.

Feigenbaum
Their bitter disagreement over the terms of the initial real estate deal to secure the site where both boats ended up locating almost killed Trump's Gary casino altogether.
Regulators chewed out Trump and Barden after a "disastrous" meeting in 1995, saying they would kill the proposals if the two couldn't find a way to cut down the animosity and work together.
"The name-calling, accusations, umbrage, and general pettiness veritably flew around the auditorium, to almost everyone's surprise, providing a rare public peek at the kind of business dealings that almost always transpire only behind closed doors," Feigenbaum wrote at the time.
In some ways, the rivalry between Trump and Barden was destined.
The two had drastically different backgrounds. Trump was the son of a real estate tycoon. Barden grew up poor, and started his first business with a mere $500 in savings.
"It was primarily about customers, but I don't think anyone could quarrel that egos were involved," said Hughes, the former Gary councilor. "Trump is Trump. Do I have to say more?"
In November 2005, Trump sold his Gary casino to his rival, Barden's Majestic Casino LLC, for $253 million.
Having a go at French Lick
Trump came knocking again for Indiana casino business in 2004, vying against Larry Bird and a Chicago-area casino industry executive to develop a casino in French Lick.
Trump once again proposed a grand vision: spending $108 million to build a riverboat next to the historic French Lick Springs Hotel, renovating both it and the nearby historic West Baden Springs Hotel. As a flourish, he enlisted golfing legend Fuzzy Zoeller to build golf courses nearby.
The Gaming Commission signed off on the project in the summer of 2004, and Trump promised to finish building the casino by 2006. But financial analysts warned at the time about the viability of Trump's casino business.

Just months later, it suffered a major blow. Trump Hotels & Casino Resorts Inc. filed for bankruptcy protection in November 2004, hoping to reorganize under a mountainous $1.8 billion in debt.
Though state gambling regulators assured the public the bankruptcy wouldn't affect the French Lick project, then-incoming Gov. Mitch Daniels had other ideas.
Daniels, who had recently been elected, asked his Gaming Commission appointee—Ernie Yelton—to review Trump's proposal as job No. 1.
"It was financial fitness," Daniels told IBJ. "He'd been bankrupt already a time or two and that particular enterprise looked shaky to people."
Yelton hired Indianapolis bankruptcy attorney Michael Hile to assist him in what he described as "peeling back layers of an onion" of Trump's company.
"The most troubling," the Louisville Courier Journal reported at the time, "was Trump's intention to use its casino properties, including the Orange County project, as collateral for a multimillion-dollar loan—money that would be used primarily to refurbish the company's flagship Trump Taj Mahal casino in Atlantic City, N.J."
Yelton said it became clear that "we probably weren't an important element in the new Trump Corp. going forward."
The state terminated negotiations on the contract in early March 2005.
Yelton said he agreed to the Trump team's request to put out a press release saying Trump had decided the company no longer wanted to proceed in French Lick.
Scott Butera, who was Trump Hotels president at the time, cited "onerous tax burdens" as the reason for pulling out of French Lick and said a tax court decision found Trump owed the state $18 million in back taxes for its Gary casino.
Daniels has since joked that he is one of the only people who can claim to have "fired" Trump, one of Trump's catchphrases. But he said the two never had any personal interactions.
"It wasn't quite like that, but it's a good line," Daniels said.
Yet observers said there were no hard feelings between Trump and the state when the French Lick deal died.
"It was almost a relief to Donald Trump that he didn't have to go through with the proposal in French Lick," Feigenbaum said. "I think he was starting to see some of the writing on the wall."
Bloomington-based medical-device maker Bill Cook, who died in 2011, ended up renovating the two French Lick hotels and—with a partner—built the nearby casino, which opened in 2006. Cook was said to have spent $34 million of his own money on the project.
"Looking back, it was a win for us and it was a win for Trump," Yelton said. "He started lessening his interest in gaming at that point. His involvement is very limited now."
'At least he was trying'
Several people familiar with Trump's business dealings here remembered him as generous and professional—putting aside his feud with Barden, of course.
Reske, the former Gaming Commission employee, said Trump came in regularly to meet with regulators to "get feedback on how his operation was running and how his top-level executives were doing."
"He was very hands-on," Reske said.
Yelton said he didn't have any interaction with Trump until about a month after the state and Trump ended the French Lick deal.
Trump called to thank him, Yelton said, for treating Trump's Indiana team well during the inquiry into the company's finances.
Then Trump invited Yelton to Florida to play golf with him on his course. Yelton didn't take him up on it.
"He was a true gentleman," Yelton said. "It was a very, very courteous call."
Despite Trump's colorful history here, Yelton said it's unlikely that most Indiana voters would think about the casino stories when casting their votes.
"It's a distant memory now," he said.
But down in the French Lick area, Orange County GOP Chairman Jack Hinkle said he thinks Indiana residents remember The Donald for his grand vision.
"People here love Donald Trump," Hinkle said. "They loved what he was going to come here and do. Things didn't work out, but at least he was trying. At least he had an interest in our small community and he was going to try for us."•
Please enable JavaScript to view this content.