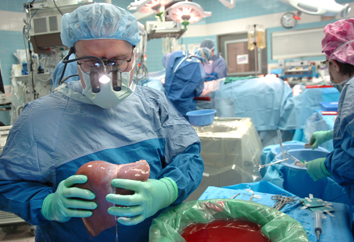 Indiana University Health's top transplant surgeon, who built the program into one of the nation's largest, has resigned to take a job at the University of Alabama in Birmingham.

Dr. Joseph Tector
Dr. Joseph Tector left IU Health on March 31 and has taken a position as professor of surgery at the University of Alabama School of Medicine in Birmingham.
UAB announced the hiring Friday morning. The appointment was effective April 1.
"We are excited to have a surgeon, clinician, researcher and teacher the caliber of Dr. Tector join the UAB School of Medicine and the Department of Surgery," said Dr. Herbert Chen, chair of UAB's department of surgery.
Tector was unavailable for immediate comment.
Organ transplants are big business. A hospital bill for a liver transplant can cost more than $700,000, and a heart transplant can cost $1.2 million, according to a 2014 report by Milliman Research.
Dr. Gary Dunnington, chairman of surgery at the IU School of Medicine, said in a written statement that Dr. Tector provided "15 years of remarkable leadership of the abdominal transplant program, taking it to national prominence for both volume and quality."
Dunnington added that Dr. Jonathan Fridell, who is serving as interim chief of abdominal transplant in the wake of Dr. Tector's departure, is providing strong leadership and that transplant volumes in the first quarter are exceeding projections.
Tector joined IU Health in 2001 as a liver transplant surgeon and was appointed chief of transplantation at the IU School of Medicine in 2004. Three years later, he helped form The Transplant Institute, a standalone organization, and became its chief medical officer.
Under his leadership, the program become one of the 10 largest in the country. Last year, IU's team of transplant surgeons performed 457 transplants of the kidney, heart, lung, pancreas, intestine and other organs.
It is one of only three medical institutions in Indiana to perform organ transplants, along with St. Vincent in Indianapolis and Lutheran Hospital in Fort Wayne.
Tector received his undergraduate degree from IU in 1987. He earned his doctorate at Saint Louis University in 1992 and completed his general surgery training at McGill University in Montreal in 1999.
He has given 54 presentations in the U.S. and Canada and written 101 peer-reviewed articles, according to a press release from the University of Alabama.
Some leaders in transplant surgery around the country called Tector's move from Indiana a big loss for IU Health.
"He's a passionate transplant surgeon who wants to transform the field," said Dr. Charles Miller, director of liver transplantation at the Cleveland Clinic and president of the American Society of Transplant Surgeons. "He's done exceptional work that's respected by others."
 
Please enable JavaScript to view this content.