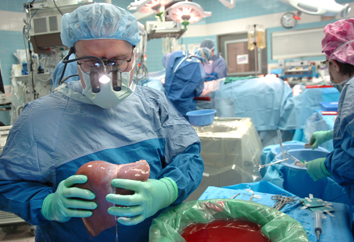 Indiana University Health is putting profit ahead of science, and wants its physicians "to function as robots" and ring up big revenues, says the medical institution's top transplant surgeon, who has quit to take a job in Alabama.
Dr. Joseph Tector, who built IU Health's transplant program into one of the nation's largest, is leaving with harsh words and taking his skills to the University of Alabama at Birmingham.
UAB announced Friday that Tector has taken a position as professor of surgery at its School of Medicine. IBJ reported the hiring Friday morning.

Dr. Joseph Tector
Tector's spokesman, Bill Broydrick, said the departure has been a messy one, and his client is trying to get back wages and penalties worth $4.7 million, along with the rights to take some laboratory equipment and cell lines to Alabama.
Whitney Ertel, IU Health director of public relations, said the hospital system does not owe Tector any money and does not have a contract with him. She said his contract is with his physician group and The Transplant Institute, a standalone organization formed 10 years ago and managed by Tector.
"Any change in leadership offers an opportunity to review how services are managed and delivered, and to make improvements in our model of providing care," Ertel said in a statement. "We view this as an opportunity to develop an even better transplant program for patients."
Tector said he decided to leave IU Health after concluding the institution had changed its focus "from one of pre-eminence to one of control and profit."
"IU Health now looks for physicians who are willing to function as robots responsible for generating revenue for the institution, not as caregivers," he said in a written statement. He said he resigned from IU Health on March 31.
A leader in transplant surgery called Tector's move from Indiana a big loss for IU Health.
"He's a passionate transplant surgeon who wants to transform the field," said Dr. Charles Miller, director of liver transplantation at the Cleveland Clinic and president of the American Society of Transplant Surgeons. "He's done exceptional work that's respected by others."
At UAB, Tector will head the xenotransplantation program, which focuses on transplanting animal organs, tissues and cells into human recipients. The program just won a five-year, $19.5 million grant from United Therapeutics Corp. with the goal of developing genetically modified kidney transplants from pig models to humans by 2021.
Organ transplants are big business. A hospital bill for a liver transplant can cost more than $700,000, and a heart transplant can cost $1.2 million, according to a 2014 report by Milliman Research.
Under Tector's leadership, IU Health's transplant program became one of the 10 largest in the country. Last year, IU's transplant surgeons performed 457 transplants of the kidney, heart, lung, pancreas, intestine and other organs.
It is one of only three medical institutions in Indiana to perform organ transplants, along with St. Vincent Hospital in Indianapolis and Lutheran Hospital in Fort Wayne.
Dr. Gary Dunnington, chairman of surgery at the Indiana University School of Medicine, said in a written statement that Tector provided "15 years of remarkable leadership of the abdominal transplant program, taking it to national prominence for both volume and quality."
Dunnington added that Dr. Jonathan Fridell, who is serving as interim chief of abdominal transplant in the wake of Tector's departure, is providing strong leadership and that transplant volumes in the first quarter are exceeding projections.
Tector joined IU Health in 2001 as a liver transplant surgeon and was appointed chief of transplantation at the IU School of Medicine in 2004. Three years later, he helped form The Transplant Institute and became its chief medical officer.
In an interview, Tector said he was told in a letter from Dennis Murphy, president of IU Health, that the transplant institute would cease some of its research functions this year. No reason was given, he said.
He said he feared that would end his ability to do research in a highly specialized field focused on ways to transplant nonhuman animal cells and organs into humans.
Currently, 10 patients die each day in the United States while on the waiting list to receive vital-organ transplants, according to the U.S. Food and Drug Administration. "Recent evidence has suggested that transplantation of cells and tissues may be therapeutic for certain diseases such as neurodegenerative disorders and diabetes, where, again human materials are not usually available," according to the FDA website.
Tector said xenotransplantation became his life pursuit in 1984 after the case of Baby Fae, who received a baboon heart for treatment of hypoplastic left heart syndrome.
Pig heart valves have been used for years, and some scientists believe whole organ transplants from genetically modified pigs are possible soon if immunological and physiological barriers can be overcome, according to University of Alabama researchers.
Tector said he was happy to join IU Health and the medical school 15 years ago, when the institutions provided him a chance to further the research.
But, in recent years, IU Health has "made aggressive moves to hinder the research program," he said, such as closing a farm where new pigs were created without giving him any warning.
He said the institution has slashed expenses by cutting experienced staff and increasing revenue through raising charges for organs 78 percent since 2010.
IU Health spokesman Gene Ford acknowledged prices have climbed, but said the largest driver was the cost of scarce organs, which have gone up substantially in recent years.  He said Indiana hospitals with transplant programs have experienced similar increases in costs and pay the same amount for organs. And there has been a consistent increase in costs for organs across the board.
"When you consider what we pay for organs, we're seeing cost increases ranging from 63 percent for kidneys to 151 percent for kidney/pancreas," Ford said. "Those organ costs drive the charges we charge."
He added that the cost to IU Health for abdominal organs has increased 78 percent since 2010. "We adjust our charges in response and in proportion to the cost of organs. And our methodology has not changed in several years."
Please enable JavaScript to view this content.