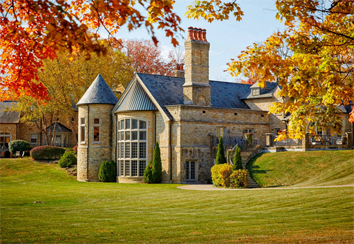 For years, tech entrepreneur Scott Jones has opened his 30,000-square-foot Carmel mansion to the public for events. Starting this week, he began turning it into a luxury rental property.
Jones, who made a fortune selling companies that power voicemail and music-recognition software, on Monday listed five of the seven bedrooms at his estate on home-sharing site Airbnb. The weekday room rates range from $95 a night to $295 a night—and he's asking for $5,000 a night for folks who want to book all five rooms and event space.
"Even though Eleven Fifty is active out there," Jones said on a phone call from Hawaii on Thursday morning, referring to the coding academy that operates at the property, "it just seemed like the right thing to do for a place that was built for people to enjoy."
The move by Jones comes as he looks to generate revenue at a multi-million-dollar property that he said would be difficult to sell if he ever decided to do so.
Much of the mansion, located at 1150 W. 116th St., has been sitting vacant since he made Hawaii his primary residence in January 2015, Jones said, and the upkeep costs for the 20-acre estate "are not insignificant, so I'd like those dollars to be useful."
The mansion is one of the most lavish properties in the state, boasting an indoor basketball court, a multi-story mahogany slide, two theaters, an indoor treehouse, a tower room with a telescope, and more.
Those amenities will be available for lodging guests to use, so long as they aren't hosting events. There's a full-time house manager on premises to accommodate guest needs.
Four of the rooms are the former bedrooms of Jones' children. The most expensive of these is the Yellow Room, which runs $245 a night. With antique furnishings and marble bathrooms, Jones said, "I don't know that there's a hotel room in Indianapolis that's as nice as the Yellow Room."
Then there's the master bedroom, which costs $295 a night. It features a fireplace, a small home theater, a 4,000-pound brass tub for two, a waterfall shower, and off-white walls and curtains "that make you feel like you're entering a cloud," Jones said.
Jones' estate has been featured on HGTV, CNN, and other major media outlets, and won "Crib of the Decade" for the 2000s from MTV.
Jones said so far people have booked 20 nights at the mansion, and he's in a dozen or so booking discussions.
He said he's also been getting a number of wedding requests, but he's still devising his strategy for those and other types of large-scale events.
"Whether it'd be weddings or bar mitzvahs, or graduations, or business meetings, I'm figuring all that out as to whether we do it and, if we do, what would I charge for it," he said.
As it stands, the lodging and small event revenue will, at best, defray the cost of operating the mansion, Jones said. Making the space available for large events might cover those costs.
The mansion was built in 1938 by Russell White, the president of Indiana National Bank. Jones said he became enamored with the estate in the early 1990s and inquired about it even though it wasn't listed for sale. He purchased it in 1995 for a sum in the "low-single-digit millions," and pumped "tens of millions" into the property, building it to his liking over nearly five years.
Although the mansion is not his primary residence anymore, Jones suggested that listing it for sale wasn't appealing.
"What I don't see in Indianapolis—which is what you might see in San Francisco or Boston or New York—is an active market in the multi-million-dollar range or double-digit-million range," Jones said.
"And there have been houses listed, like the Simon property or the Hilberts, and those situations just haven't gone well. So why would I do that? It's not for sale, but if a buyer came along and did what I did, then I'd talk."
Please enable JavaScript to view this content.