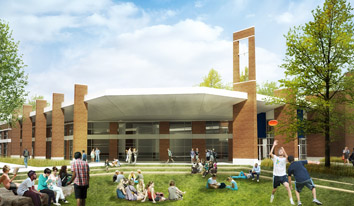 Marian University has raised $15 million through several donations that it will use as part of a $30 million plan to build new facilities on its Indianapolis campus, school officials announced Thursday.
The donations include a "major lead gift" from Mike Weaver, president of Whitestown-based Weaver Popcorn Co. Inc., and contributions from Indianapolis-based real estate developer Browning Investments LLC and several individuals, the school said.
Marian University President Daniel J. Elsener said the remaining $15 million would be raised over the next two to three years. The exact amounts of the individual gifts were not disclosed.
"Thanks to Mike and Becky Weaver's incredible leadership, we are well on the way to raising the $30 million needed to make campus improvements that will attract and retain some of the nation's next generation of leaders," Elsener said in written remarks. "Without funding, we simply can't achieve our mission of developing transformational leaders for service to the world. This is more than a gift to Marian University; it's an investment in the future leadership of our community."
The main focus of the fundraising is a building that for the time-being is called the Center for Student Success in Life, Learning and Leadership. It's expected to include a dining hall, recreation facilities for intramural sports, a weight and training room for varsity athletes, coaches offices and classrooms.  
There are no naming rights in place for the new venue now, but school officials said the name of the facility could change in the future.
The long-term goal for the school is to build a 3,000-seat arena onto the facility. The arena, which would more than double the size of the school's current arena, would be home to the school's basketball, volleyball and indoor track teams. It also would be a place where the football team could practice indoors, said Marian spokesman Mark Apple.
Marian, founded in 1937, is the only Catholic liberal arts university in central Indiana. The school has a student body of nearly 3,000 that is expected to double over the next 10 years.
Officials from the university announced the donations at Bankers Life Fieldhouse prior to Marian's annual Clayton Family Circle of Honor and M-Club Wall of Fame induction dinner. Famed football coach and ESPN analyst Lou Holtz, who is set to be inducted into the Circle of Honor, joined officials during a news conference announcing the gifts.
Please enable JavaScript to view this content.