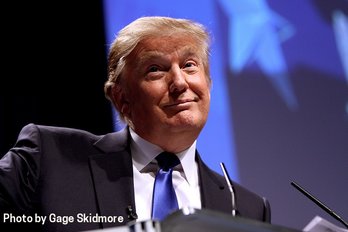 Donald Trump's campaign has notified the Indianapolis Metropolitan Police Department that the Republican presidential hopeful plans to be in town this week.
It could be the first of several visits by Trump and other presidential candidates.
Sgt. Kendale Adams said the department's homeland security commander got the call late last week about a Trump event but received no details about when and where Trump might appear.
"Our folks have not yet met with representatives to confirm any details," Adams said by email.
Indiana's primary is May 3, and the Republicans and Democrats vying for their parties' nominations are expected to visit the state before then.
Already, Ted Cruz has confirmed he will attend the Indiana Republican Party's Spring Dinner at Primo Banquet and Conference Center on April 21. The party said it has invited Trump and John Kasich as well.
In addition, the candidates have been opening campaign centers and organizing volunteers in the state.
Tony Samuel, an Indiana spokesman for the Trump campaign, said Sunday that he can't confirm that Trump is planning to be in Indianapolis this week because no visits have been finalized.
"I can tell you that he will be here multiple times before the primary but all details and dates are still being worked out," he said.
Trump's rallies across the country have drawn thousands of supporters as well as hundreds of protesters—and the sides have occasionally clashed. Adams said IMPD could be tasked with providing security around campaign events, but he said the department won't make any of its plans public.
Please enable JavaScript to view this content.