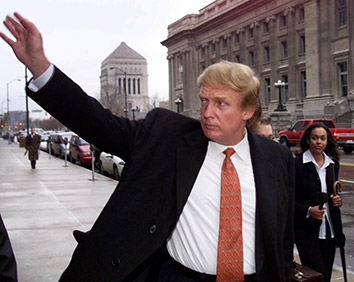 Republican presidential candidate Donald Trump is scheduled to come to Indianapolis on Wednesday to rally supporters in advance of Indiana's May 3 primary, which analysts expect to be particularly competitive this year.
His campaign announced the visit Monday, confirming an earlier report.
Trump's rally is set for at 3 p.m. Wednesday at the Indiana State Fairgrounds at the Elements Financial Blue Ribbon Pavilion.
Doors are scheduled to open at noon.
The contest between the three remaining Republican candidates—Trump, Sen. Ted Cruz and Ohio Gov. John Kasich—is expected to be fierce in Indiana, with observers noting that Trump's performance in Indiana and California could make or break  the front runner's path to the 1,237 delegates he needs to clinch the Republican nomination.
However, complicating matters is that there has been no polling released in the state yet, so all of the teams are in the dark about how the candidates are expected to fare with the state's electorate.
Cruz will also visit Indiana this week, attending the state GOP Spring dinner on Thursday.
Ticket information for the Trump event can be found here.
Please enable JavaScript to view this content.