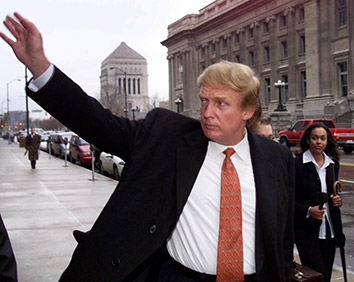 Donald Trump will meet with Indiana Gov. Mike Pence on Wednesday afternoon ahead of the Republican presidential hopeful's campaign rally in Indianapolis, and might be joined by former presidential candidate New Jersey Gov. Chris Christie.
Pence's office says the private meeting with Trump is planned for the Governor's Residence on the north side of Indianapolis and about 2 miles from the Indiana State Fairgrounds, the site of the Trump rally at 3 p.m..
The Republican governor hasn't endorsed a presidential candidate ahead of Indiana's May 3 primary, saying repeatedly that he'll support whoever is the GOP nominee.
Pence's office says Trump requested the meeting.
Pence will share a stage with another GOP presidential candidate on Thursday as Texas Sen. Ted Cruz is set as one of the speakers at a state Republican Party fundraising dinner at an Indianapolis banquet hall.
Trump's rally comes a day after his big Republican primary victory in his home state of New York. It's the first Indiana campaign stop by the presidential candidate this year. Many supporters lined up at the fairgrounds rally venue by 10 a.m. and collected in front of the stage soon after noon.
Only a handful of protesters were evident among the crowd. Some shouting occurred between Trump backers and two people carrying a sign saying "Dump the Chump."
Christie was expected to fly to Indianapolis on Wednesday to accompany Trump for political meetings, according to New Jersey Republican Party spokesman Pete Sheridan. It was not immediately clear whether Christie would join the discussion with Pence or speak at the rally. Sheridan did not give further details.
Christie is scheduled to return to New Jersey later Wednesday and appear on his monthly regular radio interview program.
Christie last appeared with Trump on the trail in March, missing the funeral of a New Jersey state trooper and drawing criticism. Christie responded saying the criticism was expected and that he planned to attend a groundbreaking elsewhere in New Jersey even if he were in the state.
Christie said earlier this week that if Trump asks for his help and he is able to go, he would.
Please enable JavaScript to view this content.