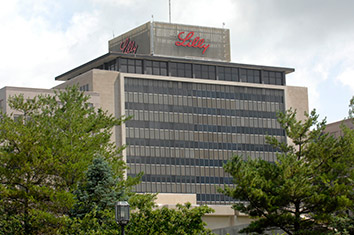 Strong sales of new drugs for cancer and diabetes helped Eli Lilly and Co. overcome flagging sales of older products, but climbing costs took a bite out of profits.
The Indianapolis-based drugmaker on Tuesday morning posted first-quarter profit of $440.1 million, or 41 cents a share, down 17 percent from a year ago. Revenue was $4.865 billion, up 5 percent.
Earnings, adjusted for non-recurring costs and asset-impairment costs, were 83 cents a share. That fell short of Wall Street's expectations of 85 cents a share, according to a poll from Thomson Reuters.
The company took a $203.9 million charge related to the impact of the Venezuelan financial crisis.
Lilly revised its full-year earnings guidance to be in the range of $2.68 to $2.78 a share. That's down from guidance in January of $2.84 to $2.93 a share.
Operating expenses for the quarter climbed 5 percent. Research and development expenses increased 17 percent, driven primarily by higher late-stage clinical development costs.
The company recognized special charges of $131.4 million, related to the closure of an animal health manufacturing facility in Ireland, integration costs related to the acquisition of Novartis Animal Health and other expenses.
Revenue was helped by strong sales of cancer drugs Erbitux and Cyramza, along with the diabetes drug Jardiance, all of which posted sales growth of 90 percent or more.
Sales of some older drugs fell by double digits, including antidepressant Cymbalta (down 31 percent) and diabetes drug Humalog (down 11 percent).
Sales of the insulin Humalog were $606 million in the first quarter, shy of the $730 million estimated by analysts, and the erectile dysfunction drug Cialis topped the $546 million estimate with sales of $577 million.
The company said the slide in Humalog sales from $684 million in the first quarter of 2015 was a one-time consequence of the occurrence of certain rebates, and didn't expect the trend to continue.
The "underlying trends in Humalog look solid," CEO John Lechleiter said Tuesday in an interview on Bloomberg TV.
The company expects "single-digit growth" recently seen in the drug's sales to continue, Phil Johnson, head of investor relations, said on a call with analysts.
Lilly shares fell 1.9 percent Tuesday morning, to $76.47 each.
Please enable JavaScript to view this content.