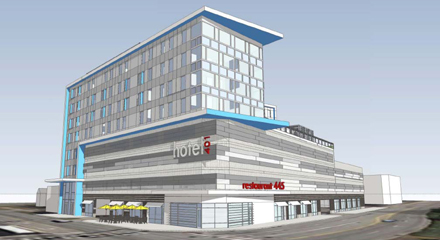 Yet another downtown hotel project is in the works, joining a growing list of lodging developments slated to add at least 1,000 rooms to the central business district.
Shawn Cannon, owner of Tow Yard Brewing at 501 S. Madison Ave., has filed plans with the city to build an eight-story, 152-room hotel with 6,000 square feet of retail on the surface lot north of the craft brewery.
The proposal includes 366 parking spaces on the first four floors of the building, with hotel rooms occupying levels five through eight. The street-level retail space would be at the northwest corner of the development, at Madison and South Street, and would extend east along South Street.
The parking lot on which the hotel would be built runs diagonally along Madison Avenue and follows South Street east to the Subway restaurant, and bounds South Scioto Street and an Arby's parking lot. The south end of the parking lot runs along East Henry Street adjacent to the brewery.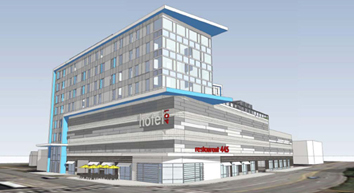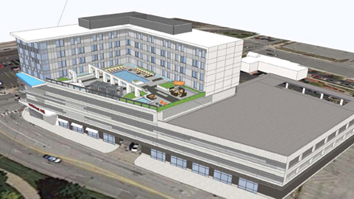 Cannon's hotel would be built in an L shape starting at South and Madison streets. (Images courtesy city of Indianapolis)
Neither Cannon nor project architect Browning Day Mullins Dierdorf returned calls seeking comment.
But architect Steve Alexander, president of the Stadium Village Business Association, a group that supports economic development in the south and southwest quadrants of downtown, is confident Cannon can complete the project.
"I think he's in a position to pull it off," said Alexander, who operates Prince/Alexander Architects about two blocks away on West Merrill Street.
If he can, it would be the entrepreneur's most ambitious project by far.
Besides Tow Yard, Cannon operates Fireside Brewhouse in Greenwood and is launching the seafood restaurant Sea Salt on Mass in the Millikan on Mass apartment and retail project on Massachusetts Avenue.
Cannon's hotel would be built in an L shape starting at South and Madison, running east to Subway, and extending south to the end of the restaurant's parking lot. The hotel's parking garage would extend from the hotel and follow Madison south, ending short of Henry Street.
Building materials would be a mix of brick veneer with cast stone accent, metal panels, concrete and metal screening, according to the city filing.
The Metropolitan Development Commission is set to consider the project May 4.
Department of Metropolitan Development staff recommends approval, contingent on Cannon's making certain revisions to his plans. Those include "activating" the entire frontage of the parking garage along Madison with retail, restaurant or other commercial uses; and emphasizing the "understated" entrance to the building at the northwest corner (South and Madison).
Meanwhile, Alexander is involved in a different hotel project in the area as its architect.
Illinois-based Hillcrest Development Inc. has received city approval to build a $17 million, 140-room extended-stay TownePlace Suites by Marriott two blocks east of Lucas Oil Stadium.
The five-story hotel would be south of Merrill Street between Russell Avenue and South Meridian Street as they come to a point. Hillcrest hopes to break ground in the summer, Alexander said.
Also on the south side of downtown, hotel developer Barat Patel plans to build a 12-story, 150-room Cambria for Rockville, Maryland-based Choice Hotels International. Choice first presented plans last October for the $20 million project to be built on a surface lot at the southwest corner of South Meridian Street and Jackson Place. The project includes 15,000 square feet of retail space.
Patel's Sun Development & Management Corp. was not originally part of the project but later jumped aboard. The timing of the project is uncertain, pending city approval of design changes that are in the works.
In addition, Patel is poised to convert the city's oldest African-American church into hotel space as part of a $30 million project that would add more than 200 rooms.
Bethel African Methodist Episcopal Church at 414 W. Vermont St. on the west side opened in 1869 and has served the black community at that location for nearly 150 years. But dwindling membership and an aging building requiring costly repairs are forcing the congregation to sell the property, which is near the Central Canal.
Church leaders have reached an agreement with Sun Development, which has the site under contract.
Sun's plans for the site call for two hotels—one a redevelopment of the church and the other to be built next to it on a lot fronting West Street. The second would include three levels of parking and about 10,000 square feet of retail space.
On top of that, the St. Louis-based Drury Hotels chain, in February completed a deal to buy the IBJ Media building at 41 E. Washington St. It plans to build a 350-room hotel by renovating the four-story structure and constructing a 17-story tower on the adjacent parking lot. Work likely won't begin until 2019, when leases in the existing building expire.
And Louisville-based 21c Museum Hotels plans to build a 150-room hotel on a surface lot north of Old City Hall at 202 N. Alabama St. as part of a $55 million redevelopment of the building.
It's unclear when construction will start. A spokeswoman for 21c said Monday that the company is "working toward a more concrete date."
Please enable JavaScript to view this content.