Hundreds of Hillary Clinton supporters, including many families with small children, packed into a sweltering campaign office Tuesday in Indianapolis to hear former President Bill Clinton campaign for his wife.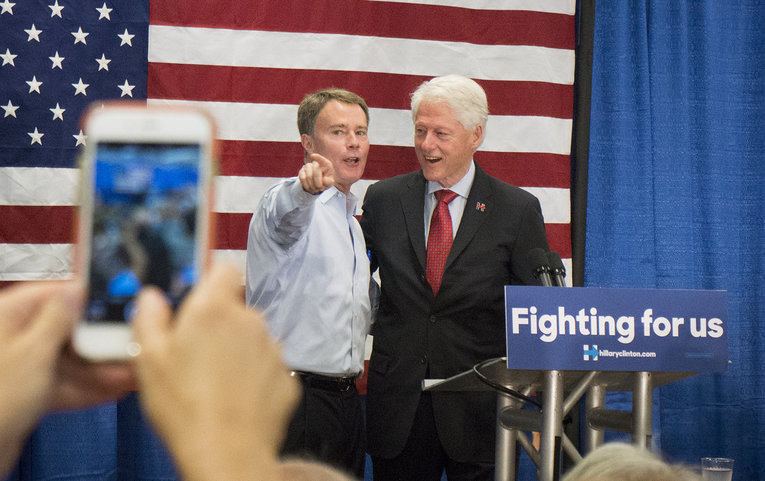 It was 8-year-old Reagan's idea for her mom, Lynde Weiland, to drive them from Fishers and attend Tuesday's event in Indianapolis.
Earlier, Weiland and her daughter had made a visit to Hillary Clinton's campaign headquarters on the north side of Indianapolis, where members of the campaign team told them the former president was coming to speak.
So, Weiland brought Reagan back to hear Bill Clinton, who is trying to help his wife win as many delegates as possible in the state's May 3 primary. Hillary Clinton is leading Bernie Sanders in the overall delegate race, but Sanders continues to hang on in the race. Sanders has scheduled rallies Wednesday at Purdue and Indiana universities.
Bill Clinton talked to supporters Tuesday about college tuition and jobs, and targeted Carrier Corp., the air-conditioning company that announced earlier this year it would move 1,400 manufacturing jobs from Indianapolis to Mexico.
"Why would anybody leave the No. 1 manufacturing state in America?" said the former president.
He said his wife's economic plan will give companies tax credits if they fairly share their profit with their employees.
Then, on a topic that resonated with the families in attendance, Bill Clinton went on to speak about the cost of education and tackling student debt.
Hillary Clinton has proposed giving college graduates money to put toward student loans if they take jobs in public service after completing two years in AmeriCorps. She also wants to make student loans work like home mortgages in terms of refinancing.
Education was top of mind for Crystal Paschal, who said her elementary school-aged son Daniel has been asking a lot of questions about the election process.
"I felt like this would be more valuable than any classroom experience he could have," said Paschal.
MaryStar Ely attended with her son, Angus Ely-Smith, who wanted to come because he has always liked Hillary Clinton.
"When President Obama and Hillary were campaigning eight years ago, he went to go see President Obama twice and Hillary once, so he enjoys it," said Ely.
The family events continue with Hillary Clinton's daughter, Chelsea Clinton, speaking at the campaign office at 7235 N. Keystone Ave. on Friday at 3:15 p.m. to encourage Hoosiers to get out the vote.
(Photo by Gary Qi, TheStatehouseFile.com)
Please enable JavaScript to view this content.