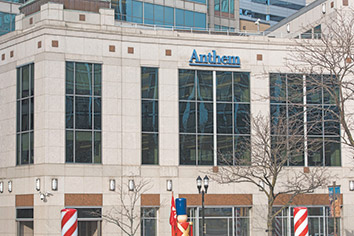 Health insurer Anthem Inc. said medical enrollment climbed nearly 3 percent in the first quarter, pushing up revenue, but profit fell 18.7 percent.
The Indianapolis-based company, which operates Blue Cross Blue Shield plans in more than a dozen states, on Wednesday reported profit of $703 million, or $2.63 a share, down from $865.2 million a year ago.
Excluding "net negative adjustment items," adjusted profit was $3.46 a share, surpassing Wall Street expectations of $3.34 a share, according to a poll of analysts by Zacks Investment Research.
The company, which is in the process of buying rival insurer Cigna Corp. for $54 billion, said medical enrollment has climbed by about 1 million members, or 2.6 percent, since the end of 2015, reaching 39.6 million members. The increase reflects enrollment gains in the national, individual and Medicaid businesses, partially offset by a decline in enrollment in the local group business, the company said.
Medical loss ratio widened to 81.8 cents per premium dollar, compared with spending of 80.2 cents per dollar a year earlier.
Anthem previously has said it expected its acquisition of Cigna to close in the second quarter, but Wednesday's earnings release did not provide an update on the timing.
Operating revenue was about $20.3 billion, up about 7.7 percent from a year ago, reflecting premium increases and higher enrollment in the Medicaid and commercial self-funded businesses, the company said.
For the full year, Anthem said it expects profit to be greater than $9.65 a share. Excluding some items, adjusted profit will come in greater than $10.80 a share, the company said. That's slightly up from the $10.35 a share Anthem forecast three months ago.
Overhead, as measured by sales, general and administrative expense ratio, dipped to 15.8 percent from 16.7 percent a year ago.
The company declared a dividend of 65 cents a share for the second quarter, payable on June 24. The dividend is unchanged from the prior quarter.
Please enable JavaScript to view this content.