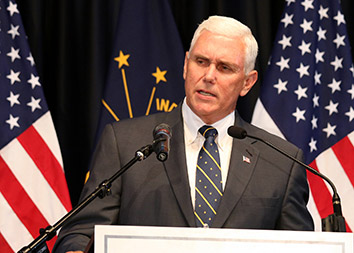 Gov. Mike Pence is endorsing Ted Cruz in Indiana's Republican presidential primary.
The governor announced his support for the U.S. senator on WIBC's "Garrison" show on Friday afternoon, just days before Indiana's May 3 primary.
"I will be voting for Ted Cruz in the upcoming Republican primary," Pence said. "I see Ted Cruz as a principled conservative who has dedicated his career to advocating for the [Ronald] Reagan agenda."
"I really admire the way that Ted Cruz has stood up to Washington," Pence continued, referring to the senator's outspoken criticism of government spending.
Pence said he would support whoever wins the Republican nomination.
He also "commended" Donald Trump, who he said "has given voice to the frustration of millions of working Americans."
"I'm particularly grateful that Donald Trump has taken a strong stand for Hoosier jobs," Pence said.
Cruz is running a little more than 5 points behind Trump, according to an average of recent polling in the state, according to RealClearPolitics.
Pence's endorsement could help Cruz perform better in the state's primary, which many political observers believe could be the last chance to stop front-runner Trump from securing the GOP nomination.
Because of its competitiveness, Cruz has spent several days campaigning in the state, and pro-Cruz ads have flooded TV airwaves.
"I think it certainly helps Cruz," said Mike Murphy, an Indianapolis public relations consultant and former GOP state lawmaker. "Anytime a sitting governor endorses someone it helps."
The two are ideologically aligned on many issues, Murphy said.
"Their Christian faith really informs their policy decisions to a great degree," Murphy said "I think they are both ardent opponents of the Obama administration and the heavy-handed Washington regulations that come down from time to time."
But Cruz has gained many enemies during his time in Washington—former GOP House speaker John Boehner called him "Lucifer in the flesh" this week—whereas Pence was "very effective in Washington."
Pence served as a Republican U.S. congressman from 2001 to 2013.
Many political observers have been waiting to see which candidate Pence would endorse. However, some thought it unlikely for Pence to endorse anyone, since the governor is facing a reelection campaign and might be worried about losing core grassroots voters who support Trump.
"He's in a tough reelection fight," said Republican pollster Christine Matthews of Bellwether Research & Consulting. "I don't see the equation helping him at all."
Murphy said Pence likely isn't thinking of that at the moment.
"He's a very conservative, Christian governor," Murphy said, "and I think he listens to his beliefs first and worries about the political fallout later."
Please enable JavaScript to view this content.