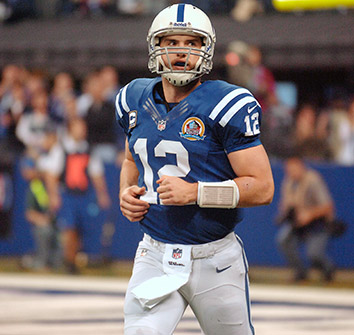 Colts owner Jim Irsay said Saturday that negotiations on Andrew Luck's contract extension are getting serious and a deal could be reached before training camp begins.
"Talks are progressing well. We have gotten into serious discussions and we have made progress," Irsay said after taking a break during the sixth round of the NFL draft. "Serious discussions have happened and indicate we should be able to come to deal."
The obstacle doesn't appear to be money.
Irsay has repeatedly said he plans to pay market value to keep his franchise quarterback and has even used the term "shocking numbers" to describe how high he's willing to go to keep Luck in town. Baltimore quarterback Joe Flacco, who was the Super Bowl MVP following the 2012 season, has the title of highest annual average salary at a little more than $22.1 million.
The hard part has been sorting out the details. Both sides are trying to figure out how to come up with a salary-cap friendly deal that would assure Luck will be surrounded by good players for the duration of the deal.
"It's a complicated deal, it's one that has to work both ways so we can field a championship team," Irsay said. "So it takes time. But we've made real progress and I don't see why we can't have discussions to get a contract done before we get to training camp."
Last month, Irsay said he believed the deal could be completed by July 4. On Saturday, he walked back those comments, saying he was "casually" trying to predict the future while acknowledging the start of training camp seemed like a more feasible timeline.
In fact, Irsay said, the Colts have even finalized contracts during training camp.
In 2011, Indy announced a long-term deal with Peyton Manning as training camp opened. Last year, T.Y. Hilton signed a five-year, $65 million deal while the Colts were working out at Anderson University.
A few weeks later, Indy's left tackle Anthony Castonzo agreed to a four-year deal worth $43 million.
There's little doubt Luck will get a pay hike after playing out the final year of his rookie deal at $16.1 million.
Since being chosen No. 1 overall in the 2012 draft, Luck has gone 35-20 as a starter, led the Colts to playoff appearances in each of his first three seasons and been to three Pro Bowls. He's also thrown for 14,838 yards, 101 touchdowns, 55 interceptions and has topped the 4,000-yard mark twice.
After Luck missed nine games because of injuries last season, Indy spent three of its first six draft picks this weekend on offensive linemen — a concerted effort to keep Luck healthy.
But Luck and his agent, Will Wilson, have stayed relatively quiet about their version of contract talks.
"I'd absolutely love to be here, get it done and move forward," Luck said when Indy's offseason workouts began April 18. "That being said, I really don't spend that much time thinking about it."
Instead, he's content to let Irsay and Wilson work out the details, something Irsay is hoping will get finished soon.
"I think both sides would like to get it done sooner rather than later," Irsay said. "I think both sides realize that this is a deal that hopefully should get done."
 
Please enable JavaScript to view this content.