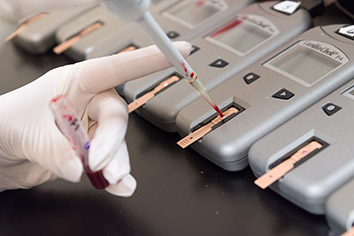 An Indianapolis-based company that makes handheld medical-testing devices for cholesterol and blood sugar has agreed to be sold to a Chinese company in a deal that could be worth $200 million.
PTS Diagnostics, with about 215 employees in Indianapolis and in Sunnyvale, California—in Silicon Valley—said Monday it has entered a definitive agreement to be acquired by Sinocare Inc., a maker of blood-glucose-monitoring systems, based in Changsha, China.
The change in ownership will not result in any reductions in workforce, management changes, or relocation of jobs or operations, PTS CEO Robert Huffstodt said in an interview.
About 150 people work at PTS' headquarters and factory at 7736 Zionsville Road in the Park 100 business park.
"There should be no impact whatsoever," Huffstodt said. "There's none of that planned or contemplated."
The agreement calls for PTS to be acquired for up to $200 million in cash, including $90 million for the successful accomplishment of certain milestones. PTS said it expects to become a wholly owned subsidiary of Sinocare within 120 days, subject to satisfaction of certain conditions.
PTS was founded by a former Roche Diagnostics Corp. employee in 1992 as Polymer Technology Systems Inc.  It began taking angel investments in 1997. Last year, the company decided it was a good time to look for a buyer, one that could provide capital and markets for growth, and pay shareholders who wanted to cash out.
Investors have been "very patient and very supportive for a long time," Huffstodt said.
The company is owned by about 260 shareholders, most of whom live in Indianapolis. He declined to identify them and said no single shareholder owns a majority of shares.
Last year, PTS hired investment bank JPMorgan Chase & Co. to begin looking for a buyer, and later decided on Sinocare, which is focused on the innovation of biosensor technology and diabetes care.
Sinocare, founded in 2002, has been growing quickly in recent years, taking advantage of the rapidly growing Chinese diagnostics market. Last year, it acquired Nipro Diagnostics of Florida for $273 million.
It also attempted to acquire the diabetes monitoring business of Bayer, but was unsuccessful, Huffstodt said.
PTS' deal with Sinocare will allow the Indianapolis company to expand in China and elsewhere.
"We've sold into China for a number of years, and it's a good market for us," Huffstodt said. "But Sinocare is much more comfortable and versed in the China market and how business is done there. They have hundreds and hundreds of sales reps that we'll gain access to, just for China."
PTS' sales in China last year were $4 million to $6 million, he said. Total revenue was $46 million.
PTS products include CardioChek blood testing devices, A1CNow portable monitors, strips for blood-sugar testing, and PTS Detect tobacco-detection devices. The products sell in more than 135 countries.
In the United States, the products are sold in CVS, Walmart and Walgreens stores, but consumer sales make up less than 10 percent of sales. The bulk of PTS' business comes from sales to clinics and other health providers.
Note: An earlier version of this story incorrectly stated that the deal could be worth up to $290 million.
 
Please enable JavaScript to view this content.