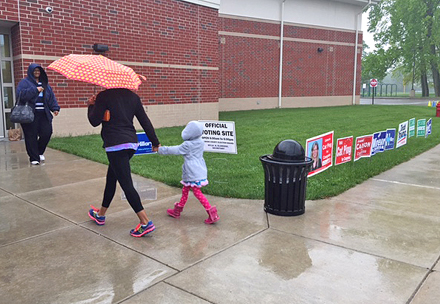 Some central Indiana polling stations were seeing steady crowds Tuesday morning as voters cast their ballots in the state's primary election.
Marion County
Lines had formed outside some Indianapolis polling stations before those sites opened their doors Tuesday. But the deputy director of Marion County's clerk's office, Russell Hollis, said it's too early to say whether turnout is heavier than normal for the primary.
About two-dozen people were lined up outside the Broad Ripple Park Family Center on Indianapolis' north side before its polling station opened.
Polling site inspector William Rawls said 140 people voted there in just over the first hour, which he calls very strong for a primary.
Johnson County
Heavy voter turnout was reported in Johnson County, where many voters face waits in long lines to cast ballots.
County clerk of the courts Sue Anne Misiniec said more than 6,400 people voted Tuesday in the first 2-1/2 hours after polling sites opened in the county just south of Indianapolis.
She said voters had the chance to vote at Johnson County's five early voter centers, and if they didn't "they need to understand that they're going to be standing in line. We can't change that."
Misiniec said more than 11,000 people had voted at the county's early voting walk-in centers, and thousands of others mailed in ballots.
She said the county might see a 50-percent voter turnout for Tuesday's primary.
Hancock County
In Hancock County, just east of Indianapolis, some polling stations were facing periodic technical problems, but all county polling sites were open.
Elsewhere
Allen County in northeastern Indiana had seen only about a 13 percent voter turnout by mid-morning Tuesday, much of it in Fort Wayne, Indiana's second-largest city.
County election director Beth Dlug said about 20,000 people had voted at polling sites by about 9:30 a.m. Another 16,000 voted before Tuesday's primary.
Early voting turnout has hit record highs statewide with more than 270,000 people casting ballots ahead of the primary, according to the Indiana Election Division. Early voting totals through Sunday already were nearly 50 percent more than the state's record for early voting set in the 2008 primary—which featured the tight race between Barack Obama and Hillary Clinton for the Democratic presidential nomination.
Election Division Co-Director Angie Nussmeyer said she doesn't know whether the jump in early voting will mean higher turnout overall for the primary or shows more awareness of it as an option for voters. Higher turnout is anticipated in strongly Republican counties, such as Hamilton and Johnson counties in suburban Indianapolis.
About 62 percent of the applications for early or absentee voting have been for Republican ballots.
Please enable JavaScript to view this content.