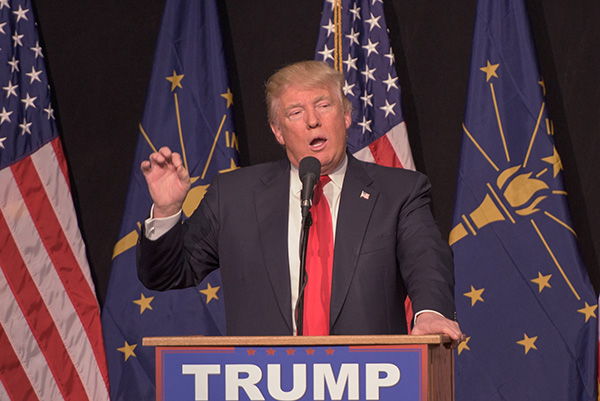 Indiana has made Donald Trump the Republican Party's presumptive nominee for president.
Ted Cruz dropped out of the race on Tuesday night after Trump trounced him in almost every category of Hoosier voter.
"From the beginning I've said I would continue on as long as there was a viable path to victory," Cruz told supporters Tuesday night at the Crowne Plaza hotel in Indianapolis.
"Tonight I'm sorry to say it appears that path has been foreclosed," Cruz said. "Together, we left it all on the field in Indiana. We gave it everything we got, but the voters chose another path. And so with a heavy heart, but with boundless optimism for the longterm future of our nation, we are suspending our campaign."
Trump's win—his seventh primary victory in a row—came even as Cruz had all but moved to Indiana over the past week in an attempt to nab enough of the state's 57 delegates to stop Trump's momentum. But Cruz's message did not resonate.
Trump still needs more victories to win the nomination outright at the party's convention this summer in Cleveland but he had said a win in Indiana would all but seal his victory. Earlier Tuesday, he had called Cruz "a desperate candidate trying to save his failing campaign."
But he took a softer tone Tuesday night, speaking to supporters in New York.
"Ted Cruz is one hell of a competitor," Trump said. "He is one tough, smart gut and he has an amazing future. I want to congratulate Ted."
Meanwhile, Cruz campaign officials said earlier they were preparing for a somber speech from the Texas senator and expected the campaign to reduce its staff immediately. Instead, Cruz suspended his campaign.
National media called the contest at 7 p.m., just as the polls closed and after exit polls showed that Trump would win easily. AP projects Trump will take at least 51 of Indiana's delegates but he could win them all.
Indiana Republicans use a winner-take-all system that gives 30 of the state's GOP delegates to the candidate with the most votes statewide and offers another 27 to the winners in the state's nine congressional districts—three in each.
The AP projects that overall, Trump now has 1,041 delegates, Cruz has 565 and John Kasich, who decided not to campaign in Indiana, has 152. A candidate needs 1,237 to win the nomination.
Lisa Hunnicutt of Indianapolis said she'll probably vote for Trump in November, even though she supports Kasich. "He's still better than Hillary" Clinton, she said.
Several recent polls had put Trump comfortably ahead in Indiana. But Cruz continued to campaign throughout the state, hoping to mirror a victory last month in Wisconsin.
Just days ago, Cruz told supporters that this "whole long, wild ride of an election has all culminated with the entire country with its eyes fixed on the state of Indiana. The people of this great state, I believe the country is depending on you to pull us back from the brink."
But the mood was somber at the Crowne Plaza as Cruz dropped out of the race.
Randy and Sharon Esco drove 11 hours from Alabama to help Cruz campaign in Indiana and went to the Crowne Plaza in hopes of a celebration, even though they knew the polls did not predict one. "I look at it sort of like the Alamo," Randy said. "Those guys may've known they were going to lose, but they were on that wall 'til the end. And my wife and I said, 'You know, regardless of what happens, we're going up there. We're not going to sit on the sidelines.' And we can say, we were on that wall."
Trump won in nearly every category of voter in Indiana: men, women, evangelicals, all age breakdowns and across incomes, from the poorest voters to the richest, according to CNN exit polls. Cruz won voters who have post-graduate degrees, the most conservative voters and people who attend church more than once a week. 
Cruz had hoped Indiana's large evangelical population (which is bigger than Wisconsin's and other states that have already voted) could propel him to victory. But Trump won that group with 49 percent to Cruz's 44 percent. 
Indiana is also the most manufacturing-intensive state in the nation. That's something that played for Trump, who—even before Indiana became an unexpectedly important player in this year's primaries—had been railing on the campaign trail against Carrier Corp., the air conditioning company that is moving 1,400 jobs from Indianapolis to Mexico.
Former Indiana Republican Party Chairman Mike McDaniel said Hoosiers and Americans are angry about lost jobs, the growing threat of terrorism and cuts to national defense.
"Trump has tapped into an anger that things are not getting done and the people like the way he says he will get things done," McDaniel said. "People are so upset that they're ready for an unconventional means of getting things done. People see the American way of life slipping away—and they want it back."
Indiana's primary also came just a week after Trump swept five East Coast primaries, including Pennsylvania, lending a stronger air of inevitably to his campaign.
Still, a number of anti-Trump and pro-Cruz super PACS spent hundreds of thousands of dollars in Indiana trying to sway voters. And Cruz won the support—although somewhat tepid—of controversial Indiana Gov. Mike Pence, which should have helped him with conservatives.
But there's increasing frustration with Pence in an active and more moderate wing of the Republican party in Indiana—a group thought of as Mitch Daniels Republicans (a reference to the former governor) who are economic conservatives and social moderates.
In fact, Indiana Democrats pounced on Trump's victory as evidence that Pence is weak.
"It's no secret Mike Pence and Ted Cruz are two peas in a pod with their social agenda as they have driven away economic opportunities and scared off young Hoosiers and moderates of their own party," said Indiana Democratic Party Chairman Drew Anderson.
Rebecca Pensky, 57, of New Jersey, said she campaigned in two other states for Cruz before coming to Indiana and said she feels "disgusted" that Hoosiers chose Trump over Cruz. "People cannot see past the anger that they have inside themselves and they're voting for the loud-mouth, schoolyard bully."
Trump thanked former Indiana University basketball coach Bob Knight for his endorsement. Trump noted that Knight was "smart, tough and knows how to win," and said those traits need to be infused back into America.
"We're not going to lose," Trump said in the same calm tone that marked his entire victory speech. "We're going to win again. We're going to win and win big."
Trump said that six weeks ago, he trailed Cruz in Indiana and won despite what he said was $8 million in negative ads placed against him leading up to the pivotal Indiana primary.
"The crowds [in Indiana] got bigger and bigger and at the end … I didn't want to leave," Trump said from his headquarters in New York.
Earlier Tuesday, the candidates traded vicious attacks. Speaking at an Indiana event, Cruz called Trump utterly amoral, a pathological liar, a serial philanderer and a narcissist at a level this country has never seen.
Trump, meanwhile, claimed Cruz's father was involved with Lee Harvey Oswold, who assassinated John F. Kennedy—something Cruz has denied.
The Associated Press contributed to this report.
Please enable JavaScript to view this content.