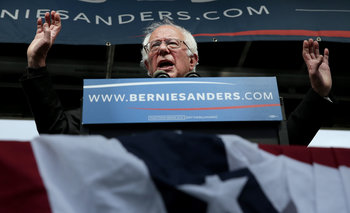 U.S. Sen. Bernie Sanders has beaten former Secretary of State Hillary Clinton in Indiana's Democratic presidential contest.
Sanders earned 53 percent of the vote to Clinton's 47 percent, according to AP results with 92 percent of the vote counted as of about 10:10 p.m. Tuesday.
The win energized Sanders' supporters—his campaign called it a "great upset victory"—and Sanders said the Clinton campaign is "wrong" to think the race is over.   
But Sanders' win likely won't change the reality of the Democratic race because of the proportional manner in which the party's delegates are awarded.
Clinton had entered the night with 91 percent of the delegates she needs to become the first woman nominated by a major party, and her supporters here predict she will walk away with half or a little less than half of Indiana's delegates.
"It changes absolutely nothing," said Democratic strategist Dan Parker, a Clinton supporter. "Sanders needed to win Indiana by 25 points to get back in the delegate race. At the end of the day, they don't want to hear it, but the delegate math is certain."
Democratic City-County Councilman Zach Adamson, who has a "garage full of Hillary Clinton yard signs" from the 2008 Democratic presidential primary but supports Sanders this time around, said Sanders should stay in this race until the end to make sure his "ambitious agenda" stays front and center.
"Even more important than winning the nomination is giving every voter an opportunity to cast a vote between ideologies," Adamson said. "For a candidate that only values the win, getting out would make sense. If your focus has been the values and the vision for our future as a country, then that's your priority, making sure that vision gets the respect, the publicity and the opportunity to go before voters. He has the finances to do it and has by far the support of the people to keep pushing forward."
Democratic activists here had predicted a close race, but each candidate pursued a different strategy. Sanders was active with TV advertisements late in the race, while Clinton's campaign did not spend money on advertising. Sanders held four rallies here, while Clinton held three.
"The reality here is that he spent a lot of money to not get a huge delegate haul," Parker said. "This isn't about winning states; this is about winning delegates."
Sanders was ahead in most of Indiana's 92 counties, with Clinton ahead in Lake County and the southwest parts of the state near the Kentucky border.
According to CNN's exit polls, Sanders was winning with men in Indiana, with 56 percent of the vote to Clinton's 44 percent. Clinton had a slight 51 percent edge among women.
And similar to the rest of the race, Sanders performed well with young people here. He had big turnouts at rallies at Purdue University and Indiana University. 
Sanders had 72 percent of the support among voters aged 17-29 and 62 percent of the support among voters aged 30-44, according to CNN exit polls.
Please enable JavaScript to view this content.