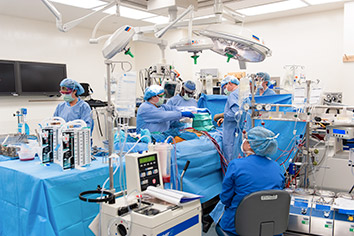 It's been a roller-coaster ride for Indiana physicians and hospitals, with fees swinging wildly up and down in recent years to fund a state insurance program that helps pay malpractice awards.
For the third straight year, hospitals are seeing their surcharges soar by double-digits, up 11 percent, following increases of 16 percent and 21 percent in previous years. The fees for physicians have climbed 3 percent to 13 percent a year over the same period.
The money funds the Indiana Patient's Compensation Fund, which pays millions of dollars a year to victims of medical malpractice—from serious injuries to wrongful deaths—in clinics, hospitals and nursing homes.
In the past four years, the fund has racked up losses totaling more than $100 million due to heavy malpractice judgments, according to a review by IBJ.
The payouts include $66 million in 2013 to more than 300 former patients of a Merrillville ear-nose-throat specialist, Dr. Mark Weinberger, who performed unnecessary or negligent surgeries, and who disappeared a decade earlier and was profiled on "America's Most Wanted."
That year, the state handed out a whopping $176 million in malpractice awards, the most in any year since the fund was set up in 1975.
"The claims experience of hospitals within the fund has deteriorated within the past several years," according to a January review of the program by Milliman, an actuarial consultant hired by the state.
In 2014, physicians paid the bulk of the surcharges collected, or $66.3 million. Next were hospitals ($32.5 million), miscellaneous payers ($12.4 million) and nursing homes ($3.1 million).
Now, some hospitals are wondering when the fee structure will become more stable. Some years, the fees have actually decreased (28.4 percent in 2010, for example), only to go up again a year later (3.8 percent in 2011).

Johns
"Most health care providers would like to avoid the volatility of the annual PCF rate changes, which appear to be issued in reaction to the prior year's losses," said Michele Calderon Johns, chief risk officer for Indiana University Health, the state's largest system with 15 hospitals. IU Health paid surcharges of $13.6 million to the fund in 2015.
Indiana has paid a total of $2.4 billion in medical malpractice awards since the fund was created in 1975, including more than $100 million a year every year since 2008.
And that could rise. A law that takes effect in July 2017 will raise the cap on malpractice awards from $1.25 million to $1.65 million—the first increase in nearly two decades.
The fund, administered by the Indiana Department of Insurance, is still solvent, with a balance of more than $118 million as of Jan. 1. But the balance has dipped as low as $4.3 million in 2003, and has surged as high as $189 million in 2009.

And while the state continues to write big checks to malpractice victims and families, the fees paid by hospitals and physicians haven't kept up. The fund has rung up annual losses in 10 of the last 18 years.
When the balance dips, the Insurance Department tries to replenish the fund by raising rates. Last year, after another double-digit increase in fees, the fund scored a small surplus of $4.9 million, following losses in four of the previous five years.
The fund acts as pooled risk, providing insurance protection to health care providers and compensation to patients in cases of medical negligence. Under the system, doctors and hospitals, through their insurance companies, are responsible for paying for the first $250,000 of any award. The state fund pays any excess, up to $1 million.
The unusual combination of caps and a statewide pool helps keep liability low for doctors and hospitals. In turn, that keeps their malpractice insurance rates low.
Cheaper here
To see how relatively little health care providers in Indiana pay for medical malpractice insurance, just look at some surrounding states.
For internal medicine physicians in Indiana, malpractice insurance cost an average of $7,776 a year in 2013. That was just a fraction of the $12,000 in Kentucky, $23,000 in Ohio, $35,000 in Michigan, and $40,000 in Illinois, according to the Medical Liability Monitor, an Illinois company that conducts an annual rate survey.
For obstetricians, a high-risk specialty, fees are as much as $177,000 a year in surrounding states, compared with $44,000 a year in Indiana.
Only two other states, Nebraska and Virginia, have Indiana's combination of caps on malpractice awards and a system where doctors and hospitals split the costs.
The Indiana system was established four decades ago under Gov. Otis Bowen, a former family physician whose goal was to keep physicians from leaving for bigger cities and keep Indiana's hospitals staffed.
Indiana was the first state in the nation to enact what the American Medical Association called "comprehensive malpractice reforms." Under the system, malpractice payouts were initially capped at $500,000. That later rose to $750,000, and finally to $1.25 million in the late 1990s.
The Indiana Hospital Association said it strongly supports the malpractice system here, even if it results in rates fluctuating year to year for its members.

Tabor
"It's a competitive advantage to Indiana to attract physicians to come here because they like our system, the protection that it affords them," said Brian Tabor, the association's executive vice president. "There are still increases in costs for physicians, but it's more predictable and more manageable."
Value debated
The Insurance Department said it calculates the surcharge each year with the help of an actuarial firm, using the previous year's data as well as national data.
"The trends in the surcharge are reflective of the relative changes in payments and risk associated between the physician and hospital categories," the department said in a statement.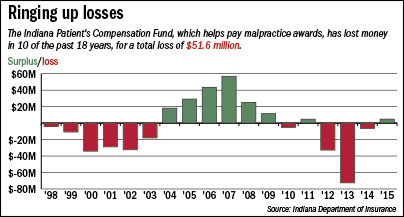 The association said physicians would prefer the surcharges remain stable. "But we're not hearing from any physicians that they can't handle the increases," said Julie Reed, the group's executive vice president.
At the hospital level, that sometimes means big jumps worth millions of dollars.
For example, Community Health Network, one of Indiana's largest systems with eight hospitals in Indianapolis, Anderson and Kokomo, paid surcharges of $6.5 million into the fund this year, up 38 percent from two years earlier. Some of that was due to an increase in the number of physicians covered and its growth in patient volumes and patient interactions, spokesman Al Larsen said.
Despite the steep increases, Community Health believes the fund helps provide protection from significant claims "and better positions the state of Indiana as a destination to attract key health care providers," he said.
Even IU Health, which pays huge surcharges, says the fund is valuable, for creating a liability limit that protects hospitals and has stemmed an exodus of physicians.
"There is value in having all qualified health care providers share the risks by paying into the pooled PCF, which pays out only after the primary limit is exhausted," IU Health's Johns said.
The bottom line, according to the Indiana Hospital Association: The system "strikes a delicate balance between the interests of providers and patients."

Kehoe
Naturally, some malpractice lawyers disagree. They say the system is set up to favor health care providers. The annual caps, which will rise twice, to $1.8 million by 2019, still won't be high enough to pay for all the expenses—including future medical expenses or future lost wages—in serious malpractice cases, said Bruce Kehoe, partner in Indianapolis law firm of Wilson Kehoe Winingham, which specializes in injury cases.
"I've represented folks who have had more than $2 million in medical expenses," Kehoe said. "So the cap doesn't really address in any fair way their losses. It doesn't provide any meaningful remedy."
He added that the process is "frustrating and time-consuming," sometimes taking up to four years to get through the medical review board and the civil tort trial.•
Please enable JavaScript to view this content.