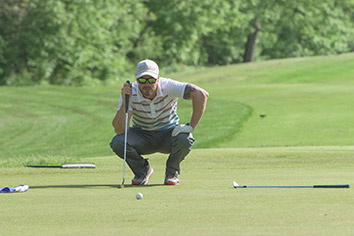 Are tee-time brokers like GolfNow knocking cash-strapped courses into the rough? Or could the Expedia-like providers be the chip shot courses need to get back on the green?
"People have pretty strong opinions on both sides of this issue," said Mike David, executive director of the Indiana Section of the PGA. "The battle lines are so firmly drawn, it's caused quite a bit of friction in this industry locally and nationally."
In many ways, GolfNow is doing for courses and golfers what online sites Orbitz and Travelocity have done for hotels and travelers.
Golfers can shop on GolfNow.com for discounted tee times at courses throughout the country—including dozens in central Indiana—searching by date, price and location.
The site—owned by NBCUniversal's The Golf Channel—has tremendous reach and has upped many courses' visibility. That marketing muscle, GolfNow officials said, is pushing more customers to courses.
A 2015 National Golf Foundation study found that, on average, GolfNow users played 12 more rounds of golf per year than those who didn't use the service. And that same study found that GolfNow users tried on average five new courses in the 12 months leading up to the survey.
"GolfNow is especially valuable when I'm on the road. It helps me find good courses and good deals," said Tom Blattler, media relations director for the IndyCar Series team Dreyer & Reinbold Racing.
David
But Blattler, who plays about 50 rounds of golf a year and has used GolfNow about seven years, said it's also useful locally.
"It's helped me find courses nearby I never knew existed," he said.
There's another big advantage.
"I can jump on GolfNow an hour before I want to golf and find out what's available all over town," he said. "I can do on a computer in 10 minutes what it used to take me an hour to do by phone."
But for golf courses, there's an undeniable downside, industry experts said.
"You can't argue it creates disloyalty," David said. "Everyone these days is shopping for bargains. I've heard of golfers making their decisions on where they golf based on the difference of $1 or $2 a round."
That has created a nasty cycle, he added.
"The more a course discounts, the more it drags everyone down," David said. "Courses feel like they can't continue to discount and survive."
Much of the friction is caused by GolfNow's payment system.
While the site happily takes cash or a commission for the services it provides courses, it also offers barter arrangements—which usually require a course to give up two rounds per day—in exchange for listings on its website and the computer hardware and software that make booking tee times and running the pro shop easier.
GolfNow can resell those bartered rounds at rock-bottom prices.

O'Neal
Because many courses are small businesses with limited marketing and technology budgets, they opt for the barter agreements. And while giving away a couple of rounds a day for massively increased exposure plus hardware and software seems like a good deal, course manager Doc O'Neal said it can end up being quite costly.
"Those two rounds a day you're giving away add up," said O'Neal, chief operating officer of Cohoat and O'Neal Management Corp., which operates Prairie View Golf Course in Carmel and Wood Wind Golf Club in Westfield.
That's especially true at a course like Prairie View, which has greens fees of $72 on weekdays and $82 on weekends. Still, GolfNow officials pointed out that about half of all tee times on local courses go unfilled.
On the cheap
Course operators cite other problems, too.
Often, to eliminate some of itsever-expiring inventory, GolfNow unloads its bartered rounds cheap—in some cases, really cheap. As a result, courses find themselves competing against deeply discounted rounds on their own course—and on neighboring courses.
O'Neal's firm recently opted out of GolfNow, in favor of its own dynamic pricing system.
"From the club and course's point of view, I'm not a huge fan," O'Neal said. "But I understand the role they play."
Hospitality experts noted that it took the lodging industry a decade to adjust to the likes of Expedia, eventually learning to guarantee consumers the lowest prices on their own websites and to provide only limited inventory to third-party providers. So maybe it's no surprise golf course operators still seem to be finding their way with third-party providers.
A quick search of the GolfNow website turned up some great bargains.
On May 12, the site listed a "Hot Deal" for a tee time with a cart at The Fort Golf Resort, a respected course at Fort Harrison State Park, for $25. But tee times for the same course available shortly before and after that cost twice that amount.

McIntee
On the same afternoon, a tee time with cart at Purgatory Golf Club in Noblesville was selling at GolfNow for $22—a 56 percent discount.
A tee time for 18 holes with a cart was $10—a nearly 60 percent discount—at Valle Vista Golf Club in Greenwood.
A quick search for Saturday tee times turned up scads of discounted rounds—labeled "Hot Deals" by GolfNow—across central Indiana. A nine-hole round could be found for as cheap as $3 and plenty of 18-hole rounds cost less than $25. Some of the Saturday rounds were discounted as much as 70 percent.
"When golf is discounted, I think it's discounted for a reason," O'Neal said. "We think more emphasis needs to be put on the quality of the product and service."
Losing control
Blattler, who calls himself "an economy golfer," said he gets an endless stream of emails from GolfNow promoting cheap rounds at area courses.
That type of outreach is causing some course operators alarm.
"Courses losing control of their relationship with customers is a serious concern," said said Matt McIntee, CEO of Green Golf Partners, which operates 15 courses, including four in Indiana.
But GolfNow officials disagree. Courses have many opportunities to interact with golfers when they arrive at the course, said Will McIntosh, GolfNow senior vice president of business development and strategy. He said golfers on site can be sold food and beverages, equipment and other goods and services—which goes straight into course operators' pockets.

But greens fees and cart rental are the lifeblood of the industry. According to the National Golf Association, those streams account for nearly 60 percent of a course's revenue. McIntee said it's closer to 75 percent for many courses.
"You can't make up for lost greens fees with a hot dog, a couple of beers and a few golf balls," McIntee said.
GolfNow's McIntosh pointed out that his company is growing fastest among millennials, a crucial audience for the long-term survival of the golfing industry.
"We've created a marketplace,"McIntosh said.
Though Orlando-based GolfNow won't reveal how many courses it works with, David called it "the 800-pound gorilla of the industry."
Several local courses told IBJ that GolfNow has deals with more than four times as many courses as its nearest competitor, and GolfNow officials said the site is still growing at a double-digit clip.
GolfNow said it has more than 3 million registered users and millions more who are not registered.
Rounds booked through GolfNow escalated from 2.4 million in 2008 to 15 million last year, according to industry experts.
"GolfNow's main objective is to book every round of golf. If that happened, it definitely wouldn't be good for golf," McIntee said.
"My fear with third-party booking companies is they focus solely on price," he added.
The battle traces its roots back a decade when the industry was overbuilt, creating more courses—and tee times—than there are now players to fill them.
"Without a doubt, the supply-and-demand problem this industry is facing has created this issue," David said. "There was a building boom a decade or so ago, and the market hasn't yet corrected itself."•
Please enable JavaScript to view this content.