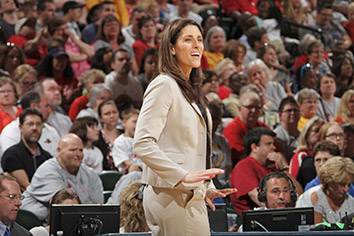 Stephanie White will leave the Indiana Fever at the end of the 2016 WNBA season and become Vanderbilt University's new head women's basketball coach, several media outlets reported late Monday.
White, who has long sought to be a head coach at the college level, is in her second season as the Fever coach and took the team last year to the WNBA finals.
News broke last week that White was one of three finalists for the Vanderbilt job. At the time, White said in a statement it "has always been a goal of mine to get back into college coaching at some point in my career, but it had to be the 'perfect' opportunity in order for me to consider leaving this job that I love very much."
After Vanderbilt contacted her about the job, White said she asked Fever President Kelly Krauskopf for and received permission to interview for the position.
"We agreed that she would remain with the Fever for the 2016 season," Krauskopf said on Friday about the possibility that White might leave.
"It is not my desire for her to leave our franchise, but I felt the right thing to do was to allow her to pursue her goal of coaching in college. I am more than confident that Stephanie will do a great job for us this season."
White is a former Purdue University standout who led her college team to a national championship. She played in the WNBA for five years, including four with the Fever before she retired to go into coaching and broadcasting.
She had served as an assistant coach for the Fever and the WNBA's Chicago Sky as well as Ball State, Kansas State and Toledo universities.
White, who was named one of IBJ's Forty Under 40 earlier this year, will leave the Fever just as star player Tamika Catchings retires. The departures will mean big changes for the Fever, who are 3-1 this season. The team plays next at 7 p.m. Friday in Minneapolis.
According to several reports, White will be joined at Vanderbilt by one of her former Purdue coaches, Carolyn Peck, who will be her associate coach.
White becomes the second Hoosier to join the Vanderbilt coaching staff recently. Last month, the school hired former Valparaiso coach Bryce Drew.
Please enable JavaScript to view this content.