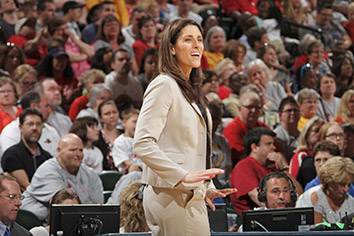 Vanderbilt University has hired Stephanie White of the WNBA's Indiana Fever as its women's basketball coach, it announced Tuesday, confirming earlier reports.
White, the first rookie coach to lead her team to the WNBA Finals last year, will finish out this season with the Fever, whose season just began this month. That's fine with Vanderbilt, where athletic director David Williams noted White has been a winner at every phase of her career.
"She wants to coach at Vanderbilt, and we believe she is just the person to lead our program back into national prominence," Williams said in a written statement.
White said the chance to coach Vanderbilt was an opportunity she couldn't pass up. She told Indiana officials during the offseason that she wanted to pursue a college job but would finish out her second season with the Fever. Indiana's last season didn't end until Oct. 14, when the Fever lost to Minnesota in five games.
"The combination of Vanderbilt's culture, where achievement — both on and off the court — is so highly valued, together with the institution's fan support, and a legacy of winning basketball to build upon, is incredibly exciting to me," White said. "I appreciate the support and understanding that I have received from the Indiana Fever, from management to the players, regarding my passion to coach college basketball at an elite institution."
White will become Vanderbilt's fifth coach and replaces the program's winningest one.
Melanie Balcomb resigned April 27 after going 310-149 over 14 seasons, reaching the NCAA Tournament 12 times. But failing to make the field each of the past two seasons led to Balcomb's departure from a program that reached its last regional semifinal in 2009 — the same year Vanderbilt won the last of its six Southeastern Conference Tournament titles.
This is a program that reached the Final Four in 1993 and has four Elite Eight berths and seven Sweet 16s since 1992. But the Commodores have not finished a season in The Associated Press' final rankings since 2009.
A four-woman committee handled the search for Balcomb's replacement and was led by deputy athletic director Candice Lee, who played basketball at Vanderbilt from 1998 to 2002.
White played shooting guard and was named both the Indiana Miss Basketball and the national high school player of the year in 1995. She won the 1999 Wade Trophy as the national college player of the year, helping lead Purdue to its first national championship. Charlotte drafted her in the WNBA before trading her to Indiana in time for the Fever's inaugural season. She played for Indiana for four seasons.
White retired after the 2004 season and was an assistant coach at Ball State, Kansas State and Toledo. She also spent four seasons as an assistant coach with the Chicago Sky before joining Lin Dunn in Indiana as assistant coach, helping the Fever win the 2012 WNBA title before being promoted to head coach in September 2014. White also has worked as a broadcaster with the Big Ten Network, ESPN and Fox Sports Indiana.
Please enable JavaScript to view this content.