A Carmel-based start-up has raised $7.5 million to fund a national launch of a whiskey business in June.
Beach Whiskey LLC, led by beverage entrepreneur J. Smoke Wallin, announced Thursday it has closed its first institutional financing round, which will be used to launch the business, initially to California, Florida and Hawaii. The funding comes after an initial seed round of $458,000 the company raised last year.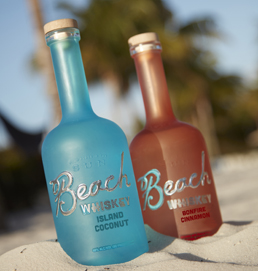 Founded this year, Beach Whiskey LLC plans to market two varieties of the potent potable.
The company's portfolio, aimed at "celebrating the beach lifestyle," will consist of 70-proof Bonfire Cinnamon and 52-proof Island Coconut. The whiskeys will be sold in 750-mililiter bottles for $23.99 each.
Wallin, former chief financial officer of liquor distributor National Wine & Spirits Inc., founded the company last year and serves as its CEO.  He could not be reached for immediate comment.
It's unclear how many employees the company has. It is based at 12796 Ashworth Street, south of West 131st and Towne Road in Carmel.
According to Wallin's LinkedIn page, Beach Whiskey "is an American whiskey made for sun worshiping, moon chasing, fun seekers. … a whiskey for those drawn to the water, the waves, who welcome a little wickedness."
He previously founded several other liquor-related companies. In 2010, he founded Pelican Brands LLC, a sales, marketing and distribution firm that represented Napa Smith Brewery, Singha and other brands. The company merged a year later with Paddington Corp., which traces its roots to a longtime importer of scotch and the creator of Bailey's Irish Cream.
He also founded and led Taliera Holdings LLC, which acquired Texas-based Red Eye Brands, the maker of Red Eye Bloody Mary mix, as well as salsas and sauces. Through Taliera and its affiliates, Wallin founded or invested in Sugar Skull Rum, Wine 2.0, Liquor Lab and other enterprises.
 
Please enable JavaScript to view this content.