College cycling champion Tom Hanley isn't used to running into brick walls.
So when he couldn't get large charitable foundations to support a wellness program he developed for central Indiana youth, Hanley switched gears and adopted a fee-for-service model underwritten largely by sponsorships.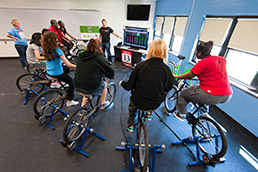 Tom Hanley's sponsor-backed cycling classes promote physical activity among central Indiana youth. (IBJ photo/Eric Learned)
Now, Nine13sports brings bicycle-based classes to schools, community centers and other venues where children already gather. The sticker price: $5,000 for a five-week session, with need-based discounts available.
But corporate sponsors pay most, if not all, of the fees, helping to promote physical activity along with their businesses. Sites are added as funders sign on.
"We had to get creative, think outside the box," Hanley, 27, said of the pivot made about a year ago. "The traditional approach wasn't working."
Regions Bank agreed to power the Kids Riding Bikes program this spring at two locations in Indianapolis Public Schools: Rousseau McClellan Montessori Magnet and Gambold Preparatory High School. Nine13 just wrapped up its portion of the curriculum, and now Regions' associates are preparing to deliver financial literacy lessons.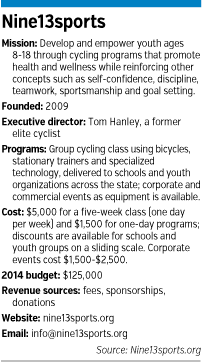 The bank already had a relationship with Rousseau McClellan, "adopting" the school about three years ago, said Kim Borges, Regions' area marketing manager. The Nine13 deal broadened that partnership and also allowed the bank to reach an older audience at Gambold Prep.
The fact that Regions uses a light green bicycle in its marketing materials is just a happy coincidence.
"It happened to align perfectly with what we're already doing," Borges said, citing Nine13's emphasis on big-picture concepts like goal setting and team building—important for physical and financial fitness alike. "There's definitely a correlation between the two."
Finding such connections is becoming more important for organizations like Nine13, said Derrick Feldmann, president of Indianapolis-based charitable consulting firm Achieve.
Increasingly sophisticated donors want to see their gifts at work, he said, and they tend to give to groups that demonstrate "tangible transparency" when it comes to program outcomes.
"It's something donors can wrap their arms around, knowing who will be helped and how," Feldmann said. "There are probably going to be a lot more of these funding models, where you have tangible program components you can put a price tag on."
Startups in particular find it challenging to win grants from foundations and other large institutional donors, since they typically haven't produced results yet. But Feldmann said organizations can help make their case by building a broad base of support among individuals and businesses.
Nine13 did just that last winter, raising $4,000 through an online crowdfunding site to introduce Kids Riding Bikes to IPS' Sidener Academy and School 94. A grant from the Central Indiana Bicycling Association's foundation paid to bring the program to Garden City Elementary School in Wayne Township.

Hanley
Hanley, the organization's executive director, called bicycles a "great equalizer" that can put youth of all shapes, sizes and backgrounds on relatively even ground.
Nine13's eight single-speed bikes are hooked up to a computer simulator and electronic stands that control resistance, making it more difficult to pedal "uphill," for example. Students track their progress—distance, time and watts of energy generated—on a giant TV screen, trying to improve their own results.
Although they spend just 12 to 15 minutes on the bikes, the students (as many as 150 a day) return to class wobbly-legged and smiling. Teachers report many are more attentive and focused after the burst of activity.
Hanley collects performance data to measure improvement over the five-week course. At Gambold Prep, an international baccalaureate school, students also crunch the numbers in their math and science classes.
Physical education is a key component of the IB program, said Principal Shane O'Day, and he reached out to Nine13 because he wanted to introduce students to something other than the traditional basketball and football. (Or "American football," as he calls it after living overseas for a decade.)
The Regions sponsorship deal was "extremely helpful" given the district's cash-strapped status, he said, and the bank's "Dollars and Scholars" program should enhance the economics lessons the school already offers.
And physical fitness aside, the bike riding had another advantage.
"The students really got into it," O'Day said. "I would hope they would take that high-level, focused intensity from the bicycle seat and transfer it to working a math problem. … It may hurt at first, but in the end, it's going to feel good."
That's the idea, Hanley said. As the program has grown, it has become easier to sell the concept to potential sponsors. But the deals take time—as long as four to six months to work through the details, he said.
Hanley said he is deep into negotiations with a large hospital system and a local "corporate entity focused on youth," and he's finalizing an agreement to bring his bikes to the Boys & Girls Clubs of Indianapolis for the third summer.
He is looking for entities interested in sponsoring clusters of schools, but Hanley also is taking care not to put all his eggs in the same saddlebag. He vowed to avoid the temptation of lining up one big donor to fund the bulk of the $125,000 annual budget, for example, and keeps overhead low by basing operations at the Speakeasy tech hub.
"We've got a truck and trailer we can take out on the road and go where we need to go," he said. "We need to stay flexible and lean."
Hanley is the organization's only full-time employee; he has one part-timer who helps adjust bike seats and cheer students on. Adding schools will mean adding to the staff. And that means adding sponsors.
Although the revenue mix is about evenly split between sponsors and fundraising now, Hanley said the momentum is shifting toward the corporate partnerships. He envisions eventually running Nine13 "like an IndyCar team—everything we do is brandable."•
Please enable JavaScript to view this content.