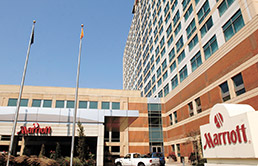 The Indianapolis Marriott Downtown hotel is set to be sold for $165 million to Merrillville-based White Lodging Services and Carmel-based REI Investments, one of its original developers.
Bethesda, Maryland-based owner LaSalle Hotel Properties said Thursday that the two Indiana companies have signed a contract to buy the property at 350 W. Maryland St. The transaction is expected to close early in the third quarter.
With 622 rooms, the 19-story Indianapolis Marriott is the city's second-largest hotel, trailing only the 1,005-room JW Marriott Indianapolis, which was developed by White Lodging and REI.
White Lodging is already the manager of the Indianapolis Marriott, which was built in 2001 for about $90 million by REI and Indianapolis-based Kite Development. LaSalle bought the hotel in 2004 for $106 million and renovated it five years later. It was the state's largest hotel until the JW Marriott opened in 2011.
The Indianapolis Downtown Marriott has 33 meeting rooms with more than 40,000 square feet of space, and is home to Champions Sports Bar & Grill and the Circle City Bar and Grille.
In a voice mail message, Mike Wells, president of REI, said the new owners planned to "refresh and renovate" the property.
"It's a great investment and a great hotel," Wells said. "We're happy to have it back."
LaSalle, a real estate investment trust that owns 46 other hotels in nine states, said it will use proceeds from the sale to pay down debt.
 
Please enable JavaScript to view this content.