A prominent Indianapolis developer is pursuing two projects totaling $32 million that would bring a grocery and 200 apartments to a neglected stretch near the highly traveled intersection of 38th and Meridian streets.

Flaherty & Collins Properties has bought the five-story United Way of Central Indiana building at 3901 N. Meridian St. and will co-develop the property with Midtown Indianapolis.

They want to convert the structure, built in 1969 and in severe need of repairs, into 100 mixed-income apartments with up to 15,000 square feet of street-level office space.

Murtlow
Work should begin after United Way vacates the 70,000-square-foot building by the end of the year. The not-for-profit has signed a lease to occupy 30,000 square feet at the State Auto building at 2955 N. Meridian St. across from the Children's Museum of Indianapolis, CEO Ann Murtlow said.

United Way has owned the building since 1992 but declined to dump "millions" into the building when it doesn't need the entire space, she said.

In the meantime, Flaherty & Collins is nearing an agreement to partner with North United Methodist Church to develop the surface lot the church owns fronting 38th Street between the church and North Illinois Street.

Miller
Plans there call for a mixed-use development with 100 additional apartments anchored by a grocery, said Duane Miller, Flaherty & Collins vice president of community and asset management.

"The neighborhood is definitely in a food desert," he said. "To have a community-friendly grocery store on a smaller scale would be perfect."

Such ambitions might have seemed unlikely just a few years ago. But community leaders say they're now within reach in large part because of the Great Places 2020 initiative.

The citywide effort, led by the Local Initiatives Support Corp., aims to funnel private-sector investments into three neglected neighborhoods, including the area around 38th and Illinois. The others are East Washington and Oxford streets, and West Michigan Street and King Avenue.

Last month, LISC announced it would contribute $50 million through loans, grants, equity and tax credits, bringing to $80 million the amount committed to the cause by more than 40 partner organizations.

Taft
Renewal plans for the 38th and Illinois streets neighborhood are closest to fruition, said Bill Taft, executive director of LISC Indianapolis.

"You have a very functional real estate market when you go north of there," he said of the Butler-Tarkington and Meridian-Kessler neighborhoods. "It's a matter of building off of that."

Flaherty & Collins has had discussions with three grocers, Miller said. Marsh, which anchors the developer's Axis at Block 400 project downtown, is not one of them, he said. Nor is Whole Foods, which has committed to occupy 40,000 square feet at the base of Flaherty's $121 million, 28-story 360 Market project under construction on the former Market Square Arena site downtown.

The 38th and Illinois neighborhood has been without a grocery since July, when Double 8 closed its last four city stores. One was at 3902 N. Illinois St., less than a block north of where a new grocery could be built.

The former Double 8 building remains vacant but has been bought by Noblesville businessman Gabriel Soukup, who plans to open a microbrewery in the 8,500-square-foot space.

Soukup, 42, operated a Two Men and a Truck franchise for about 10 years and now runs his own moving company, Happy Movers. His fermentation experience comes from a five-year stint at Eli Lilly and Co., where he worked in research and process development from 1998 to 2003.

Soukup has purchased his brewing equipment and building materials and hopes to open in the fall.

"We want to be part of the revitalization of the area," he said. "Great Places 2020 was a huge incentive."

But even neighborhood leaders acknowledge daunting challenges lie ahead.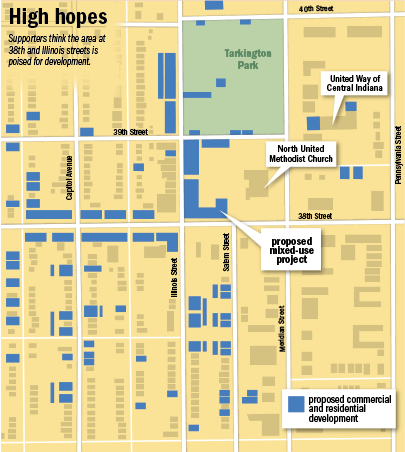 While 38th Street is one of the city's major thoroughfares, connecting the Indianapolis Museum of Art to the west with the Indiana State Fairgrounds to the east, it's also an unofficial dividing line between mostly white and predominantly black households.

Pockets have managed to attract private investment, but mainly from fast-food restaurants. In the late 1990s, a combination McDonald's and BP gas station opened on the southeast corner of 38th and Illinois, followed by a Burger King and a CVS pharmacy on the west side of Illinois.

At the northwest corner of 38th and Illinois is the vacant Concord building, which is being purchased out of foreclosure by Midtown Indianapolis. Built in 1927, it once housed a Foot Locker store and most recently was home to the 305 Hot clothing store.

Thieves have stripped the building's electrical and plumbing guts, but it's still worth saving, said Michael McKillip, executive director of Midtown Indianapolis. He counts it as the last historic mixed-use building—with apartments above—in the designated Great Places neighborhoods.

"The pieces are certainly moving forward, but it will not be easy," McKillip said. "It's one of the city's five-highest crime spots."

The area's challenges have impeded development of apartments, which need to command certain rents to support construction costs. While downtown rents might exceed $2 per square foot, the midtown area fetches only about 70 cents per square foot.

Flaherty & Collins said it would need affordable-housing tax credits and midtown tax-increment financing funds to help offset lower rents associated with serving a mixed-income customer base.

However, the area's desirability is getting a boost from the city's $6 million upgrade of Tarkington Park, which is scheduled for completion by year-end. In addition, the planned Red Line bus route would have a stop at 38th and Meridian, potentially increasing foot traffic.

For now, businesspeople in the area are tempering expectations.

"It would definitely help business, because it's fairly blighted now," said Michael Knowlton, whose grandfather Curley Knowlton opened Curley's Cleaners in the strip center along the west side of Illinois Street in 1955. Michael has continued to run the store since Deering Cleaners acquired it two years ago.

The strip has other longtime tenants, including Costumes by Margie and the Melody Inn.

LISC and the Great Places 2020 partners have dubbed the neighborhood Maple Crossing. Maple Road was the name of 38th Street when it served as the city's northern border.

The three Great Places 2020 intersections were identified by LISC and its partners as having the potential to become village centers capable of anchoring vibrant neighborhoods by the city's bicentennial in 2020.•