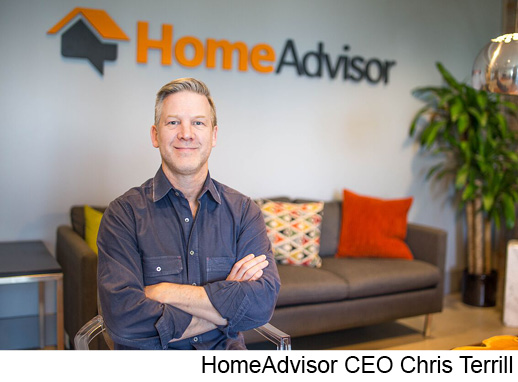 Chris Terrill, the CEO of Colorado-based home-services marketplace HomeAdvisor, made his first trip to Indianapolis this week, mainly to check in on his sales office that opened in March. That office had about 30 employees when it launched and now has 67, he said, 90 percent of whom formerly worked for Indianapolis-based competitor Angie's List Inc.
Terrill spoke with IBJ at a downtown eatery Thursday about the company's local footprint and the industry at-large. The following are excerpts from that conversation.
On company growth here
I always knew we'd do well. I didn't think we'd do this well this fast.
We have about 70 people right now. We'll expand that space [at 1 Virginia Ave.] that we're in now, then we'll look at other places that might make sense. I'd like to see us double [the headcount] that we've got.
On opening national sales offices
We've got five: New York City near Times Square, Kansas City, Colorado Springs, and a small office in downtown Denver. We're interested in this model of being in the heart of downtowns, in the cool warehouse districts and revived downtown areas, to create a very different kind of sales and operations environment.
In New York we had a really interesting experiment there [about three years ago] where it was a very high-energy, familial, neat space—ping-pong, the whole thing—which is typically what you've seen with internet startups, not sales-and-operations centers. But we felt like sales culture now is to the point were it should be high-energy and should be fun. So that did really, really well, and we started replicating that.
On expanding other divisions here
Potentially. I mean, like I said, I think we're going to expand the sales office—we're looking at another building now, so we'll expand that. But, I think, give us maybe a year in the market and we'll get a sense for it. And if we found that there's great tech talent here or product talent, we certainly would think about a satellite structure.
The good news is we're very good at being distributed, and we're very good at being in multiple locations and managing that. Some companies are good at that, and some aren't. And I'd tell you, I'd come here before I go to Silicon Valley. It's too expensive, too hard, too many people who want to work for three months and [leave] if they're not CEO by then. I like good, hard-working middle America cities.
On parent company IAC/InterActiveCorp's failed acquisition bid for Angie's List
My view is that it was a point-in-time opportunity. We're on a rocketship, and they were choppy, heading where they were heading. We have a monetization engine that could have taken a lot of that traffic and monetized it. So, it was interesting at the time. What we didn't know when we built our models was, where were they in their life cycle. If you look at the last quarter, [Angie's List] only added 400 service providers—we added 16,000. That's a little less than we thought in our models.
So, I think it's harder to get a deal done when some of the fundamentals are weaker than we expected. I think at this point, we're going to take a wait-and-see attitude. And, depending on where the business goes, maybe it makes sense, or, if it's degrading faster than we thought, it might not make sense.
(Angie's List issued a statement in response to Terrill's comments, saying: "There's never been a more exciting time for Angie's List users and service companies. We are on the cusp of executing on our plan to offer consumers no-charge access to our more than 10 million verified reviews, and tiered premium service beyond that free level. This business model change is designed to bring dramatically more consumers into the Angie's List world, introducing them to our unparalleled number of highly rated service professionals who have met eligibility requirements that enable them to be promoted to our members.) 
On Amazon, Google, other tech giants jumping into home services
It's going, basically as we thought it would go. You look at Google, I think they're in two markets now—San Francisco and Sacramento. So they're barely expanding. It's very slow. Only a few categories. But, you know, they're Google. You always keep one eye on them, but at the same time we're partnering with them in other ways.
So we'll see. I think that's a long-term thing they'll have to focus on. If they want to invest $200 million or $300 million in building a sales force. Let's face it. Can they make more money charging us and Angie's List [for search ads] versus running their own [platform].
Amazon's deeper into it. I think what you're seeing with Amazon is they've backed off trying to price the service before you ever get it. I think they're realizing that while that model works with e-commerce, it doesn't necessarily work for buying services. Where they are starting to sell installed services, I think a lot of it's around putting furniture together, building barbecue pits, a lot of unskilled tasks. And that's fine, if they want to play in unskilled tasks, we're not really there. But, we have not seen any impact on the home-services side.
The reality for all these companies is, you may be big, but you still have to [invest heavily]. You still have to have a sales force. You still have to have a lead-matching engine to put supply and demand together the right way. It's $300 million to $400 million just to get into this space. And even if you're as big as Amazon, you have opportunity cost. Do you want to put that money into this or into cloud services or artificial intelligence or into self-driving cars. I think that's going to be the internal struggle for them.
On future of home-services space
It think we're at a point of two major tectonic shifts. Right now, people are still word of mouth. Seventy percent of people still say they go to friends of family. But we're seeing that trend move, as many trends did. You don't go to friends and family for restaurant reviews and movie reviews; you go online. I think you're going to see that continue, with that natural migration from offline to online.
The second is, as millennials buy that first house, start to have children and move to that second house, it's going to be a huge change. They want on-demand, and we've got the only national on-demand platform. Last year we had zero on-demand service requests—this year, 1 million. And I think that's what millennials are looking for. 
Please enable JavaScript to view this content.