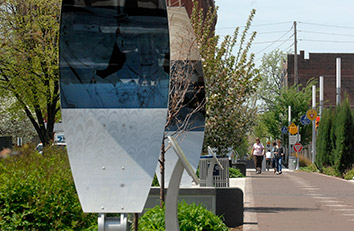 With some notable exceptions, Indianapolis is not a very walkable city.
But, a new study says, the metro area—and the rest of the country's largest cities—are starting to move toward walkable development and away from suburban sprawl.
"You're making a lot of phenomenal progress. I'll just let you know that you have competition, and they're making a lot of phenomenal progress too," said land-use strategist Christopher Leinberger, a land-use strategist, researcher and developer.
Leinberger visited downtown's Ivy Tech Community College campus on Thursday to preview a national study on urban walkability, "Foot Traffic Ahead." He and colleague Michael Rodriguez co-authored the study, conducted by the George Washington University School of Business' Center for Real Estate and Urban Analysis.
The study ranks areas based on what's called a WalkScore—the ability for pedestrians to reach places like schools, shopping and parks. Scoring ranges from 0 (least walkable) to 100 (most walkable).
The city of Indianapolis has a WalkScore of 29, which puts it in the category of "car-dependent."
But the study also identifies seven local areas that are more pedestrian-friendly. Walkable Urban Places, called WalkUPs in the study, are marked by their density and variety of development and by how easy they are to access via multiple modes of travel.
Walkable Urban Places can be in a traditional urban downtown, Leinberger said, but they can also exist in outlying suburbs. A large percentage of the Indianapolis metro area's most walkable space – 76 percent — is in downtown Indianapolis, the study says.
The area's remaining walkable urban places are found in Broad Ripple (7 percent of the metro total); Irvington (6 percent); downtown Fishers (4 percent); Meridian-Kessler (3 percent); the Carmel Arts District (2 percent); and Fountain Square (2 percent).
Starting in the mid-1940s, Leinberger said, American cities grew by pushing into outlying suburbs, creating sprawling residential areas where having a car was a necessity.
But his study indicates that momentum is starting to shift back towards more dense, walkable development.
"That pendulum's coming back," he said.
Data on rental rates backs this up, Leinberger said.
Looking at office, retail and multifamily space combined, Indianapolis' seven walkable urban places command a rent premium of 33 percent as compared with other parts of the metro area. This would place Indianapolis 22nd on a list of the country's largest metros, in between Denver and Tampa.
The study says the highest local rent premiums are in retail real estate in Broad Ripple and the Carmel Arts District, both of which carry 86 percent rent premiums. This figure is based on retail rent of $23.72 per square foot in Broad Ripple, and $23.62 per square foot in Carmel.
Downtown Indianapolis was the only one of the seven walkable areas to have rent premiums in all three categories—office, retail and multifamily. The overall downtown rent premium is 21 percent.
Since the end of the Great Recession in 2010, Leinberger said, all 30 metro areas in the study have seen rent premiums increase in walkable urban areas. This, he said, indicates growing market demand for this type of development.
"This is the beginning of the end of sprawl," he said.
The most walkable cities in the study, Leinberger said, are New York; the metro Washington, D.C., area; Boston; Chicago; the San Francisco Bay area; and Seattle.
Indianapolis, Leinberger said, generally ranks "sort of middle to low" among the 30 metro areas included in the study.
Leinberger's talk was sponsored by Central Indiana's regional transit initiative, Indy Connect; and by the Metropolitan Indianapolis Board of Realtors.
 
Please enable JavaScript to view this content.