Only six of the more than 500 organizations that had conventions and meetings over the last year at the Indiana Convention Center asked for gender-neutral bathrooms, all of which were accommodated.

That's a pretty small number of requests—just more than 1 percent of the total events booked. But hospitality experts say it's a big and growing issue, one that could increasingly affect how organizations choose convention cities.

In fact, local hotel operators told IBJ that at least a dozen meeting planners who held events at Indianapolis hotels over the last year sought gender-neutral restrooms. Before 2015, operators of the convention center and local hotels said they had never had such a request.

Levengood
Convention Center Executive Director Barney Levengood said similar requests continue to come in.

"This is an important, high-profile issue," said Patrick Tamm, president of the Indiana Restaurant & Lodging Association. "In the hospitality business, we rely on repeat business so we have to make sure everyone feels welcome and comfortable."

The issue of bathroom accommodations has been highlighted this year by the North Carolina Legislature, which passed a law requiring people to use the public restroom that's labeled with their biological gender. Similar laws have been considered in South Dakota, Tennessee and Georgia.

Tamm
Indianapolis hospitality officials want to make clear they're not part of that group.

"There's no doubt, North Carolina has lost business over this," Tamm said. "The hospitality industry is at the forefront of this. Businesses in the hospitality sector are public places. They are often the places where people stop to go to the bathroom when they're on the road. It's a critical issue for a variety of reasons."

And the issue isn't confined to just hotels and convention centers.

"Restaurants are concerned about this issue as well," said Tamm, whose organization brought in a group of transgendered individuals to talk about bathroom issues in December. "Several—including Cafe Patachou and Scotty's Brewhouse in Carmel—have gone to gender-neutral bathrooms."

There may be added emphasis here given the dust-up last year over the Religious Freedom Restoration Act that critics decried as potentially discriminatory to individuals in the LBGT community. RFRA was quickly amended by Gov. Mike Pence and members of the General Assembly to limit the legal risk of discrimination. But some in the hospitality community said a scar remains and proactivity on this front is crucial in protecting an industry that—according to Visit Indy—has a $4.5 billion annual economic impact and creates 75,000 full-time jobs.

IUPUI took the lead on the issue in November with the announcement it would add 14 gender-neutral bathrooms across its campus on the west side of downtown. School officials said the move demonstrates its commitment to diversity and inclusion.

The hospitality industry appears eager to make that same statement.

"I think as companies continue to build out and renovate hotels, you're going to see some changes," Tamm said. "You're going to see some changes not only in bathroom signage, but in set-up."

In the post-RFRA wake, Visit Indy and other local leaders launched the "Indy Welcomes All" public relations campaign.

Gahl
"These types of requests are a growing trend nationally," said Visit Indy Vice President Chris Gahl. He said failing to make these types of accommodations could make the "Indy Welcomes All" campaign ring hollow. That's why hospitality officials have been open to requests.

In fact, operators of the Indiana Convention Center and some local hotels are not waiting for the next construction project to make changes. Marriott officials have on six or so occasions in the last year changed gender-specific bathroom signage to "All Gender" at the request of meeting planners, hotel officials said.

Anderson
"It's a request we've had since RFRA, and it's an easy change to make," said Chris Anderson, senior vice president and chief revenue officer for White Lodging Services, which manages the Indianapolis Marriott Downtown. "It just makes the language clearer and more meaningful for the times we're in."

Anderson said "All Gender" signage has been limited to single-occupant bathrooms, formerly called family bathrooms. An IBJ editor at the hotel for a meeting saw an "All Gender" sign at the door of a multi-occupant bathroom that was formerly designated for men.

City tourism officials have transformed multiple-occupancy bathrooms at the convention center into facilities for all genders, Levengood said.

"We do it for the meeting planners and convention holders that request it, and we haven't gotten complaints from anyone about it," he said. "We have groups coming in the future that have made that request and we'll accommodate them."

Convention Center officials put up signs that have an illustration of a toilet with the wording "All Gender Restroom" underneath and a wheelchair icon beside it. Under the lettering is braille.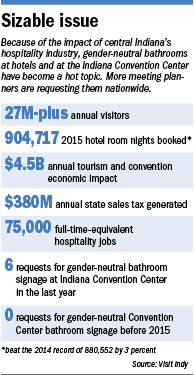 "These signs conform to international standards for signage," Levengood said.

It might seem surprising that none of the requests for gender-neutral bathrooms have come from LBGT-affiliated groups, Gahl said. Citing confidentiality clauses in convention center rental contracts, he declined to specify which groups made the requests.

"These groups span the spectrum. They're national associations and corporate groups," Gahl said.

He said it's not merely meeting planners pushing this issue.

"The meeting attendees, exhibitors and sponsors are putting pressure on the meeting planners," Gahl said. "And with this issue in the national spotlight, I think the pressure could become more intense."

Anderson, whose company, along with REI Investments, just signed a deal to buy the downtown Marriott and is planning a massive renovation starting early next year, said overhauling the bathrooms could be part of that project. Since renovation plans are in the early stages, he isn't sure how the bathrooms will be overhauled or what signage will be attached to them.

While conventional thinking seems to lean toward offering men's, women's and all-gendered bathrooms at most public places, Emily Peck, executive editor for business and technology for the Huffington Post, argues it's time to eliminate gender-specific bathrooms altogether.

That kind of transformation could be costly, especially if hotels and convention centers are forced to build a multitude of single-use bathrooms, said Mark Eble, Midwest regional vice president for San Francisco-based PKF Hospitality.

But Peck pointed to a model forwarded by Chicago architect Matt Nardella, who thinks gender-neutral bathrooms could not only be cost-effective, but could eliminate multiple problems, including long lines at women's bathrooms, a problem some meeting planners said is as big a concern at conventions as is gender-neutral bathrooms.

The public bathroom designed by Nardella features a row of individual toilet stalls (floor-to-ceiling, unlike most conventional bathrooms) with doors that open onto a common area where everyone can wash their hands and check the mirror.

Unisex bathrooms like this are cheaper to construct, offer users more privacy and safety, and take up less space, said Nardella, who owns Moss Design. He didn't offer specifics on his cost projections.

"Plus, there's more line equity," Peck said. "Never again will you have to wait in line with a hoard of women while the guys get to go and move on with their lives."•