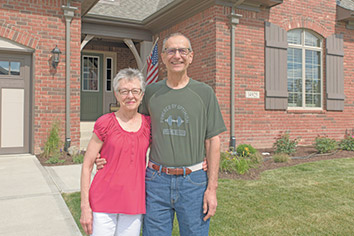 When Michelle Cardimen settled into her Westfield home near West 146th Street and Ditch Road in December, she believed her growing neighborhood would eventually be similar to the Village of West Clay in Carmel.
When Mark and Carla Schaaf moved to the same community six weeks ago, they also pictured a future with family-friendly restaurants, coffee shops and maybe a small grocery store nearby that would be easily accessible from walking and biking paths.
But now the developer is seeking zoning changes for the 275-acre neighborhood known as Harmony that would allow a CVS Pharmacy, GetGo convenience store and fuel station, and fast food restaurants within the community—and residents aren't happy with what they see as a major shift from the original vision.
Had the requested changes been public months ago, some residents say, they might not have purchased homes in Harmony—or would have at least given the decision further consideration. They say they aren't opposed to commercial development in the neighborhood, but they want places like a hair salon, dry cleaner and ice cream shop over fast food chains and gas stations.
"It was supposed to be peaceful. It was supposed to be quiet," Carla Schaaf said. "It was supposed to be a village atmosphere."
Once complete, Harmony is expected to include 650 single-family homes ranging in price from $250,000 to $475,000, 250 apartments and 170,000 square feet of retail space.
Estridge Homes, the developer of the residential sections, describes the neighborhood on its website as the right fit for "those who wish to live active and healthy lives."

Estridge
Paul Estridge Jr., president of Estridge Homes, said he still considers Harmony a village because of the landscaping it will have and an emphasis on pedestrian connectivity.
"I think there's a bit of an overreaction to the proposed design," he said. "Ask 100 people what a village theme looks like, and you're going to get a lot of different opinions."
According to the zoning approved by the Westfield City Council in 2013, restaurants with drive-thrus are limited to one parcel at the southwest corner of 146th and Ditch, and they can't primarily serve burgers or fish. Gas stations are prohibited unless the developer receives special permission from the city.
The commercial district is expected to "be designed to encourage" outdoor dining, gathering places and pedestrian amenities.
But T.M. Crowley & Associates, which has partnered with Estridge to develop the commercial section, is requesting city approval to allow any type of restaurant with a drive-thru in the main commercial district on the northwest corner of 146th and Ditch and permission for a GetGo gas station in the southwest corner parcel.
T.M. Crowley is also seeking approval of design plans for a CVS Pharmacy in the commercial section. Pharmacies are allowed under the 2013 zoning regulations.

Major opposition
More than 75 letters representing more than 100 people have been sent to the city in response to the proposed looser restrictions on fast food restaurants and the possibility of a gas station, and more than 25 people spoke at a public hearing June 6 in front of the Westfield Plan Commission.
A majority of the communication has come from Harmony residents and the neighboring Centennial subdivision, which was also developed by Estridge. But about a dozen comments have come from Carmel residents who live south of the development.
"Until about a week ago, we were quietly going about our own business," Harmony resident Mark Schaaf said. "We have awakened to all of this, and we're determined to continue and to follow through."
Centennial Homeowner Association President Joe Plankis said—in a letter sent to the city on behalf of the 1,100-resident community—that his group believed the development would include sit-down restaurants, a grocery store similar to Trader Joe's, a bank or dry cleaner.
He said Centennial residents opposed a gas station and fast food when the project was introduced in 2012, and their opinion hasn't changed.
"Why is it even being re-approached?" Cardimen said. "They already fought this battle years ago. It makes you feel like no matter how much you say or do … they'll have some sort of special provision and do whatever they want."
Keeping the restriction on gas stations seems to be a top priority for the residents, who have argued that it would create unwanted noise and traffic, cause air and water pollution, and is a safety hazard for a community with children.
"This will not add to the appeal nor property value of homes in our community," Harmony resident Marc Magnussen wrote in a letter to the city. "This will bring an undesirable clientele and an elevated traffic volume to our section of the community."
Magnussen said he wouldn't have purchased a home in this area had he known businesses like a gas station would be allowed.
Estridge said the gas station would be a nice addition to the west side of the county, and GetGo was selected because it's known as more upscale. The Carmel GetGo Cafe & Market, for example, has a 40-person dining area and offers made-to-order food, including customizable wraps, burgers, sandwiches and salads.
"It isn't just a typical fuel station. It has food and convenience," Estridge said. "We think it is going to be very well received."
The closest gas station to the development is at 161st and Spring Mill Road.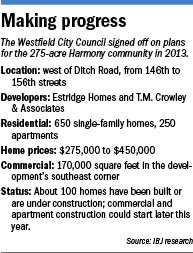 Higher standards
Even though no specific fast food restaurant is yet proposed, residents say they're opposed to allowing restaurants with drive-thrus closer to their homes and to removing the burger and seafood restrictions.
"The whole nature of the community has always been billed as something healthy, and fast food just isn't," Mark Schaaf said. "It's a shame, too, because anyone who invests in that isn't going to get a lot of business from us."
Sit-down restaurants with outdoor seating would be preferred by the neighbors. Examples like Cafe Patachou and Charleston's have been suggested, along with Starbucks and Panera.
Estridge said the retail will be market-driven, but he thinks Starbucks or Dunkin' Donuts are possibilities.
Some neighbors are open to—or even supportive of—having a CVS Pharmacy, but many don't want it to stay open 24 hours, and they aren't happy with the current building design, saying it wouldn't blend in with the community.
Several Harmony residents said they spent $10,000-$15,000 extra on their homes to upgrade the architecture to city requirements, and they want the city to hold commercial development to high standards as well.
"I feel like we moved into a very elegant and pricey neighborhood, with promises of high‐end use for the new development, and this sounds like cheap commercial," Harmony resident Jen Rochester wrote in a letter to the city, adding that she and her husband believed moving from Nora to Westfield would be an upgrade.
The design of the CVS was the only topic addressed by Westfield Plan Commission members at the June 6 meeting.
"Make it feel like a village," Plan Commission and City Council member Steve Hoover said. "I want to see architecture that blends into the neighborhood."
The zoning request is expected to return to the Plan Commission next month, and it would eventually go before the City Council.
"We certainly are listening to your comments," Commissioner Bob Smith told residents, "and we'll certainly try to make this work out well."•
Please enable JavaScript to view this content.