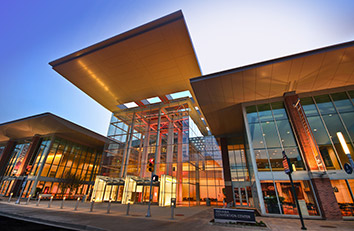 Atlanta's loss is Indianapolis' gain. And it's a big gain.
This week, convention and tourism honchos at Visit Indy signed a deal to host the 2017 annual gathering for Primerica Inc., which boasts North America's largest financial services sales force, according to the company.
The show is expected to draw 50,000 attendees and have a local economic impact of $35 million, Visit Indy said. Primerica's gathering, which will take place June 14-17, 2017, will take up the entire Indiana Convention Center and possibly parts of Lucas Oil Stadium.
Primerica officials decided to move the convention from its traditional Atlanta base after becoming concerned about construction work at the city's convention center and stadium, according to a source close to the deal.
"This hardly ever happens," Visit Indy CEO Leonard Hoops told members of the Capital Improvement Board at its monthly meeting Friday. "A show this size usually books four to five years out. To be able to land an event this big just one year out is like manna from heaven."
Hoops declined to identify other cities in the running for the event but said they were significant competitors.
The deal came together with lightning speed, at least in the wokld of mega-conventiions. A request for proposal was sent to Visit Indy out of the blue in early March.
"We responded within hours," Hoops told IBJ.
Primerica brass came to Indianapolis for a site visit within two weeks of the original communication and soon after began negotiating to bring the event here. The deal was signed last week.
"This a big win for us, and for the city," said Visit Indy Vice President Chris Gahl. "It's a really big win."
Hoops said the Primerica gathering will be among the city's five biggest conventions of 2017 based on economic impact.
Primerica officials told IBJ on Friday they chose Indianapolis due to its central location, modern airport and, most importantly, its convention center set-up and downtown hotel and restaurant amenities.
Primerica officials also were impressed by the fact that Indianapolis was voted the No. 1 U.S. convention city by USA Today readers in 2014.
"The city has everything that we look for in a meeting venue," Primerica CEO Glenn Williams said in a prepared statement. "We're confident that Indianapolis will help us deliver an unforgettable four days for everyone in attendance."
And while this is a one-year deal, Visit Indy officials hope to make Primerica a repeat customer.
"We are optimistic we will book them again once they experience the city," Gahl said.
Primerica, which is headquartered in Duluth, Georgia, will be celebrating its 40th anniversary at the 2017 convention. The firm has 110,950 licensed representatives.
Please enable JavaScript to view this content.