HDG Mansur has divulged in court documents that it's the target of a federal criminal probe for allegedly skimming millions of dollars from a client.

A lawyer defending the local developer in the lawsuit disclosed the information in an April 29 federal court filing to Judge Colleen McMahon of the Southern District of New York.

The investigation by a high-profile U.S. attorney in New York follows a lawsuit brought by an overseas investment fund against Indianapolis-based HDG Mansur, a developer and real estate investment fund manager. The fund is suing the local company, accusing it of taking $5.8 million in financing fees it did not earn.

Harold Garrison's firm faces a host of legal troubles besides the federal probe.
"Your Honor undoubtedly appreciates the difficulties of trying to mount a defense to a civil lawsuit in these circumstances, including the chilling effect on defendants' ability to testify, along with any defense witnesses who have related criminal exposure," HDG Mansur attorney Francis J. Earley wrote.

Earley disclosed the revelation in a failed attempt to convince McMahon to delay a May 27 bench trial until the investigation is finished. He said in his correspondence with the judge that HDG Mansur can "clear this up with the U.S. Attorney's Office promptly."

The judge took little time rendering a decision on the request, rejecting it on April 30.

"I can't say that I am surprised to hear as much," she wrote. "I had expected something of the sort a year ago."

The lawyer for HDG Mansur doesn't specifically say in the letter to the judge why the U.S. attorney is investigating the company, only that the probe involves the "issues in this case."

Neither HDG Mansur officials nor their attorney returned phone calls seeking comment on the investigation. A spokeswoman for the U.S. Attorney's Office said she could neither confirm nor deny that HDG Mansur is under investigation.

Like the judge, a lawyer representing the Cayman Islands-based GPIF Equity Fund, the overseas fund suing HDG Mansur, maintained in a court filing that the Securities and Exchange Commission has been working on its own investigation of HDG Mansur for months.

"The defendants have known of the SEC investigation since at least last fall, and asked for all documents related to the investigation as part of their discovery in this case," wrote Charles C. Platt, the plaintiff's lawyer.

GPIF sued HDG Mansur in January 2013, alleging the company used deceptive accounting methods to pilfer $5.8 million in financing fees. The judge awarded GPIF the amount in damages in August, rejecting HDG Mansur's argument that it charged the additional fees to rectify a billing error.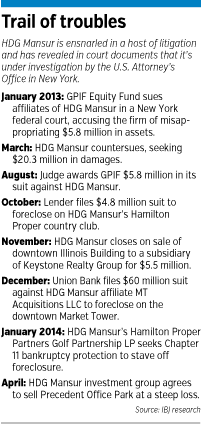 The judge, however, has yet to grant final judgment pending a counterclaim brought by HDG Mansur against GPIF.

HDG Mansur's countersuit alleges that the fund owes the local firm more than $20 million in fees. The claim raises the possibility the judge could reduce the $5.8 million award following the May 27 bench trial, according to court documents.

The lawyer for HDG Mansur insists in the letter to the judge that the U.S. Attorney for the Southern District of New York has no basis to file criminal charges and hopes to put a prompt end to the investigation.

Even so, the judge declined to give HDG Mansur the benefit of the doubt.

"I do not intend to wait around and see what [U.S. Attorney Preet Bharara] chooses to do," she wrote. "Plaintiffs have waited quite long enough to get this lawsuit concluded."

Bharara is known for his prosecutions of fraud on Wall Street, including high-profile insider trading cases. He was named by Time magazine in 2012 as one of the "100 Most Influential People in the World."

GPIF, which manages money for overseas investors, hired HDG Mansur entities in 2002 to provide management and investment advisory services.

Their relationship remained intact for 10 years, until December 2012, when the fund said it discovered that HDG entities had paid themselves millions of dollars from the funds' assets without their knowledge.

The federal investigation is just the latest of HDG Mansur's legal troubles.

In October, a lender filed a $4.8 million lawsuit to foreclose on HDG Mansur's Hawthorns Golf & Country Club in Fishers. And in December, Union Bank filed a $60 million suit against HDG Mansur affiliate MT Acquisitions LLC to foreclose on Market Tower, a 31-story building downtown.

A Marion Superior Court judge is scheduled to hear Union Bank's foreclosure request May 20.

HDG Mansur, which was founded in 1982 by Harold Garrison, says it has developed, managed and advised more than $5.6 billion in real estate investments.•