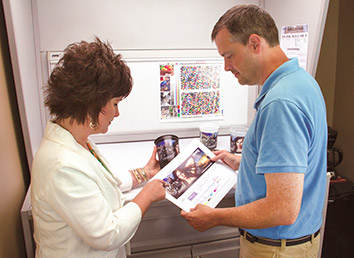 There's a good chance your refrigerator, pantry, garage and medicine cabinet are showrooms for a low-key Indiana company that's grown into a behemoth with more than $5 billion in annual sales.
You'll find the telltale signs on the bottom of containers manufactured by Evansville-based Berry Plastics Group: Either the company's crown logo (a reference to its original name, Imperial) or the words "Berry Plastics."
The company produces packaging for more than 30,000 household products, from ice cream to shampoo, hand cream to liquor, aspirin to pet food. It also makes diapers, trash bags, wipes, dryer sheets and duct tape. And get this: Berry last year churned out 6.5 billion plastic beverage cups for the likes of McDonald's, Wendy's and Starbucks.
"We're not a household name, but we're in every household," said CEO Jonathan Rich. "We are ubiquitous in consumer disposables."
Berry's shares on the NYSE recently traded at a 52-week high of $40, up 44 percent from early February—buoyed by a strong earnings report and "buy" rankings from Wall Street analysts, including a May 12 call from Goldman Sachs predicting BERY shares will zoom to $52.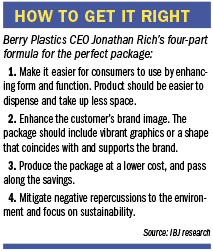 Among Berry's strengths, according to Goldman analysts Brian Maguire and Kia Pourkiani: its positioning in a sector that performs best at the end of business cycles, lower raw-material costs (resin in particular), and strong and stable cash flows.
The analysts also argue Berry is well-positioned to capitalize on a preference among millennials for see-through packaging that allows for an assessment of freshness, and a product-mix shift to the more favorable health and personal care category, thanks to a 2015 acquisition.
Berry reported quarterly earnings May 10, including earnings per share of 58 cents, well above a consensus estimate of 50 cents. The company also raised its guidance for the year for a second quarter in a row.
"Berry's underlying performance was solid," noted Credit Suisse analyst Lars Kjellberg, who maintains a $45 price target on the shares.
Berry—which employs 20,500 people, 3,000 of those in Indiana—began in 1967 with just three employees and one plastic-molding machine. Its first product was the plastic caps on top of aerosol cans, a product it still manufactures today, alongside far more innovative—even headline-grabbing—products.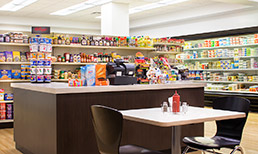 Berry's location in Evansville also includes a model grocery store so customers can see how their new products and packages will look "in the wild." (Photos courtesy of Berry Plastics Group)
Berry, for instance, was the manufacturing mastermind behind KFC's Go Cups—those brilliant containers that enable safe stowage of an entire fast-food meal in a car cup-holder.
The company also manufactures the innovative container for Purina's Beggin' Poppers—which allow dog owners to pop the bacon-inspired treats into the air using a package top designed to resemble a pig's snout.
Many of the company's most innovative products are incubated in its Blue Clover design studio in Evansville, which employs more than 50 artists, designers and engineers and uses 3D printers to quickly deliver prototypes to some of Berry's 13,000 customers around the world.
The company also maintains an in-house (but closed to the public) grocery store, beauty salon, medical center and auto garage—so customers can see how their new products and packages will look "in the wild" and alongside those of competitors.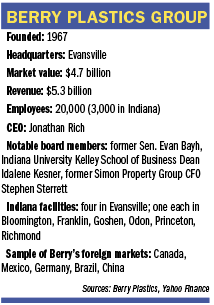 Berry can shepherd new products from concept to market within six months, which is critical in a market where every player is trying to offer products that jump off the shelves, Rich said.
"The package doesn't always make the difference, but when it can make the difference, that's the stuff we love to do," said Rich, a chemist by training who arrived at Berry in 2010 after stints with GE and Goodyear. "Most of us are incredible packaging geeks."
A few of Berry's latest packaging innovations: French's Flavor Infuser marinades, which allow for direct injection of marinade into meat without the mess or wait required with traditional marinades; and clear plastic containers for Blue Bunny ice cream that replace the traditional cardboard and show off the ice cream inside.
Many of Berry's packaging innovations are designed for efficiency—to better use shelf space in warehouses and stores, and to reduce unnecessary waste. The company also is pushing to use more recycled plastic. It uses 3.5 billion pounds of plastic per year, and about 10 percent is recycled.
"The last thing we want is our products to accumulate in landfills," Rich said. "We like to get them back and reuse."
Berry gets about 30 percent of its revenue from consumer packaging. Another 30 percent comes from engineered materials, including duct tape (Berry owns the Gorilla Tape brand) and those plastic rings that hold six-packs together.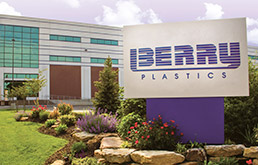 Berry Plastics Group employs 20,000 people, including 3,000 in Indiana. (Photo courtesy of Berry Plastics Group)
A third division, focused on health, hygiene and personal care, makes Berry the largest U.S. manufacturer of medical gowns, surgical masks and disposable diapers, and contributes 40 percent of revenue. Much of that division joined the company via Berry's $2.5 billion acquisition of Avintiv Inc. in 2015.
Rich called Berry's business "steady, slow, predictable" and resistant to economic cycles—demand for the company's products declined a mere 2 percent at the depths of the Great Recession.
"We think we're a very good barometer for the real economy," Rich said. "What we're seeing since the recession is a very modest but real improvement—slow and steady—but we think things are improving and that bodes well for the future."
Plastics represents the third-largest manufacturing industry in the United States, with an employee base of 900,000 and annual shipments of $373 billion, according to data from SPI: The Plastics Industry Trade Association.
Berry is active in SPI, particularly on the issue of sustainability, where it serves on the group's recycling committee and has contributed to the development of a sustainability benchmarking tool, said Kim Holmes, the group's senior director of recycling and diversion, in an email.
Berry's manufacturing operation includes 10 facilities in Indiana; four are in Evansville, and the others are in Goshen, Richmond, Bloomington, Odon, Franklin and Princeton.•
Please enable JavaScript to view this content.