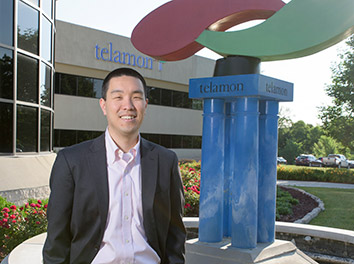 At 35 years old, Telamon Corp. CEO Stanley Chen recognizes he's young to be leading an $805 million company. But he has an advantage—he grew up with Telamon, a provider of services to telecom companies and other industries.
His father, Albert Chen, founded the company in Carmel when Stanley was a kid. Chen says it gave him a unique look inside the company years before he became an employee. After 13 years working his way through positions spanning several divisions, Chen became CEO in October when his father retired.
IBJ: Did you always expect you would join your dad's company someday?
CHEN: Growing up, I wanted no part of the family business.
I thought I was going to go be an attorney and really didn't have any interest in the business. It was late in college when I began to grasp what a unique opportunity it was. So I decided I would try it out.
Once I got into the business, I really enjoyed it, and at one point in time I decided, "Yeah, this is definitely what I want to do for the rest of my life."
IBJ: What's your dad's role with the company now? How involved is he?
CHEN: He's still chairman of the board. So he's in and around the office semi-regularly. You hear stories about founder/CEOs that won't let go. I think he's done a fantastic job of letting go and giving me room to operate. So typically, it's been me seeking him out.
IBJ: How have the first eight months gone in your new role? What have you learned?
CHEN: In this role, I am kind of one layer further removed from our customers and our employees. That's a challenge: How do I keep a pulse on those things without micromanaging? I think a lot of employees think, as CEO, I know everything that's going on, but I feel like I actually know the least of what's going on.
IBJ: Albert Chen really pushed to keep the company relevant by constantly innovating. How have you encouraged the staff to keep that innovation going?
CHEN: That's a really important thing for us, and I don't think we've cracked the code on it.
Even as a midsize business, there is still a high degree of comfort with entrepreneurial ideas. There's a high degree of comfort with us being able to change course—180 degrees—if we decide it's in the best interest of the company.
IBJ: In 2014, Telamon posted revenue of $815 million, but that slipped to $805 million in 2015. What kind of strategies are in place to keep revenue from falling this year or to increase revenue back to where it was? What do you think led to the drop?
CHEN: That has been a really exciting part of our story. In 2015 and 2016, we've been investing in things to propel growth. 2016 revenue is probably going to be flat, but 2017 we expect to cross over $1 billion.
Before, I think we always made a lot of smaller bets. I think now we're trying to make fewer, bigger bets, and there's a risk that comes along with that.
IBJ: The company recently announced plans to expand into Whitestown. Are any other expansion plans in the works? What's the next big thing for Telamon?
CHEN: The Whitestown facility is supporting some of that growth I'm talking about that takes us over the $1 billion mark.
We plan to start operating in Eastern or Central Europe within 12-15 months. The Whitestown facility will be for our telecom division, and the Eastern Europe facility will be for our industrial business.
Our customers are global, and our quality is strong enough that our customers have been requesting us to expand there. We decided to set aside some dollars to really take the plunge.
IBJ: Do you plan to keep the company headquartered in Carmel?
CHEN: Yes, absolutely. I am born and bred in Carmel. Aside from college and grad school, I have lived my entire life in 46032. This is home.
I suppose circumstances could change, but it's our intent to have a home in Carmel.•
Please enable JavaScript to view this content.