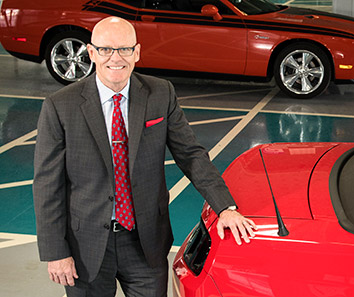 James Hallett, 63, isn't one to lick his wounds. Fired in 2005 as CEO of Adesa Inc., a vehicle-auction company based in Carmel, he later engineered a buyout that put him back in the driver's seat of the company, now known as KAR Auction Services. He took KAR public in 2009 and built it into a powerhouse. The company, with more than 10,000 employees, had sales last year of $2.6 billion, making it the 14th-largest public company in Indiana.
IBJ: What was the first job you had?
HALLETT: I was a paper boy. I grew up in a small town—Brockville, Ontario, Canada. The paper was the Recorder and Times. I had 75 customers out in the country, and the houses were spread far apart. I was 10 years old, delivering on foot. It took me up to an hour and a half to deliver.
IBJ: How did you get interested in cars?
HALLETT: My dad passed away when I was an infant. My mom never drove an automobile in her entire life. We never had a family car. I graduated from college and I was in the process of looking for employment. One day, I was meeting my wife for lunch. She worked for a bank in Canada as administrative assistant to the manager. And one day, the bank manager called me aside; I think he was concerned about whether my wife was going to have a gainfully employed husband. He said, "Would you ever consider selling automobiles?" And I said, "Heck, I don't know. We never owned one. I don't know much about them. I don't really have a passion for automobiles." He said he had a friend who was general manager of a Chevrolet-Oldsmobile-Cadillac dealership across town. I went to see him, and he offered me a job that day.
IBJ: Later, you went into business for yourself?
HALLETT: I started my business in Canada, auctioning cars. I merged it with Adesa in the U.S., and then I had the opportunity in 1996 to become CEO for North America and build that company up. We went from being very small to 60 percent of our company's consolidated earnings in 2004. And then they spun off Adesa as a separate company.
IBJ: How do you explain your business to people who don't know about it?
HALLETT: I tell people we are in the vehicle remarketing business. We resell cars, primarily to the dealer market.
IBJ: How does it work?
HALLETT: Two of the big drivers are banks and manufacturers who have leased cars. Those cars are all coming to maturity. And we have the opportunity to resell those cars on behalf of the financial institutions and the banks and the original equipment manufacturers. And then if you think about the retail car business, the franchises and the independent dealers are both buyers and sellers at our auctions. When new-car sales are high, like they were last year, that generates a lot of used-car trades, and we have the opportunity to resell those trades to the dealer market as well.
IBJ: Do you have other lines of business?
HALLETT: We also have a salvage business. We hold auctions and we sell vehicles that have been declared total losses by insurance companies. That's a very good business as well. And then we have a finance company, where we provide financing to dealers to be able to buy these vehicles.
IBJ: What happened the day you were fired as CEO in 2005?
HALLETT: At that time, the chairman of Minnesota Power, who owned us, saw the opportunity to take my job, and he convinced the board to fire me. I wasn't fired for cause; I was fired for politics. I saw it coming. But I can tell you it's a very humbling experience. You feel like you've been part of building this amazing company, and—outside of your family—you love what you do every day more than anything in in your life. Then it's all taken away from you. It causes you to think, "What would I have done differently." And then you ask yourself, "Where do I go from here?"
IBJ: But you regained control of the company. Was that retribution for you?
HALLETT: No, I don't have a bone of retribution in my body. It was a mission of passion. This company has been my life. I grew it in Canada; I grew it in the United States. I had a lot of friends, a lot of employees, people I really trusted and respected. I felt in my heart [the new managers] were not going to be successful. They didn't understand it, and they didn't have the passion.
IBJ: How did you get the company back?
HALLETT: So what I did was take a job over in Columbus, Ohio, as president of a very large auction. But I was working on a plan to buy the company back. I started to approach private equity firms. They liked it, but wanted somebody who could run it. So after several meetings, the group, KAR Holdings, agreed they would buy and I would go back as the CEO. It was a $3.7 billion deal. We merged Insurance Auto Auctions with Adesa in 2007. I came back almost two years to the day of being fired.
IBJ: That sounds sweet.
HALLETT: It was sweet. But it wasn't retribution. It was passion.
IBJ: What was the best car you ever owned?
HALLETT: Aston Martin. I've owned a couple of them, but the one I'm currently driving is my favorite car, a 2016 Vanquish. It's rare. I don't think I've seen another one in the Indianapolis region. The closest dealer is in Chicago. I have an SUV as my primary vehicle. I've had Porsches. I've had Corvettes. I've run the gamut. Boys will like their toys.•
Please enable JavaScript to view this content.